Belgian designers turn to the soil for a sensory story in Milan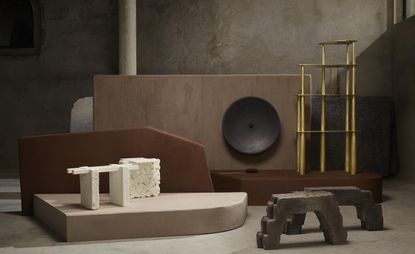 (Image credit: Alexander Popelier)
Wallpaper* Newsletter
Receive our daily digest of inspiration, escapism and design stories from around the world direct to your inbox
Thank you for signing up to Wallpaper. You will receive a verification email shortly.
There was a problem. Please refresh the page and try again.
When Brut, a Belgian collective of emerging designers bound by shared aesthetics, presented their concerted scenography at Milan's Salone del Mobile last year, they were met with much interest. 'Despite our location just outside the busy Isola, we had a really great natural selection of visitors who came expressly for us,' says Linde Freya Tangelder, a founding member who is also one of Brut's four participants for this year's iteration.

One of those eager visitors was Antoine, a Belgian company specialised in verisimilar, textured architectural finishes. 'We share a sensory approach', explains Charlotte Jonckheer, another Brut member. Brut and Antoine's similar sensibility led to their collaboration on all materials and on the scenography for this year's presentation at Salone del Mobile, titled 'Bodem', Dutch for soil. 'Last year, we worked around charcoal, but this time we looked towards soil, which required a softer and warmer approach that Antoine could offer.

More specifically, they considered the treasure-rich soil of Tongeren, the location of Belgium's oldest Gallo-Roman settlement. 'We initially had the idea to look at raw materials and construction materials there,' says Tangelder. 'We were then drawn to the finds excavated on this archeological site; like utensils and frescos. We scoured through boxes and boxes in the archive that contained objects from the Roman Era as well as the Middle Ages.'
The museum where they conducted their research, Teseum, is located within a basilica at the highest point of the city – itself a structure built upon the ruins and foundations of seven prior church structures.

'It's here that we were drawn to the layered characteristics of soil,' says Jonckheer. Often, the Roman layer was pulverised to make mortar, for example. We were interested in the stratification of the soil, which in turn inspired our scenography for Salone.' One of Brut's strengths is that they contextualise the objects they design within a scenography, reinforcing the aesthetics of each individual designer.
The negative shapes, which the Roman foundations take on while being excavated, provided the basis for the scenography 'Bodem'. The show will be presented at Studio Maraniello, a white cube gallery that contrasts strongly with the earthy tones of their thematic scenography in which each of the four participants present two objects.

On the nuanced clay and chalk-coloured plinths, Nel Verbeke shows tall vases made of a Jesmonite and earth mixture, a poetic translation of the amount of rain fallen during a defined period of time and specific place. Reflecting Jonckheer offers a hand-knotted carpet inspired by effect of the wind's movement on the soil. Bram Vanderbeke continues the fascination with negative shapes through his textured concrete structures, while Tangelder experiments further with brick as an end product, incorporated as a backrest into an aluminium chair.

'For this edition, we focused even more on the whole as a practically implementable part of the presentation,' says Jonckheer. 'Sometimes objects are presented by an outside party, in a decontextualised way – we take control of the story and the context, which seems to intrigue.'
INFORMATION
Bodem is on view 9-14 April. For more information, visit the Brut website and the Antoine website
ADDRESS VIEW GOOGLE MAPS
Bodem
Studio Maraniello
Viale Stelvio, 66
Receive our daily digest of inspiration, escapism and design stories from around the world direct to your inbox