Biennale Interieur 2014: the Kortrijk furniture fair reframes the notion of home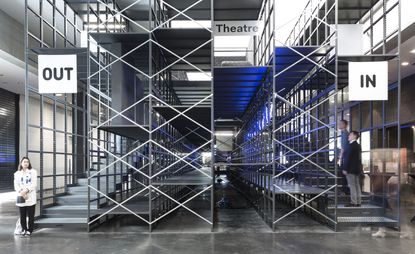 (Image credit: Delfino Sisto Legnani)
It's a different point of view to take, particularly when at a furniture fair. But outside the exhibition halls of Kortrijk Xpo in Belgium, where the 24th edition of the Biennale Interieur furniture fair is now taking place - a huge billboard makes a pronouncement: 'The Home Does Not Exist'.

This is the theme of this year's show, determined by curator Joseph Grima and his team, Space Caviar, who have been responsible for the cultural programme of the biennale. The idea, he says, is that since this fair began in 1968 (it is the oldest design biennale in Western Europe), 'a golden era for the design industry', the concept of the home has gone 'from dream to bust'. There is a crisis in the living room, he says, thanks to a vast number of societal, technological and economic shifts. Today we are apparently more likely to arrange our dream rooms on Pinterest than ever have the chance to create them in reality.

It sounds a little bleak. But actually this year's Interieur is anything but. Offering a mix of commerce and culture over six exhibition halls and a total of 40,000 sq m, the fair brings together hundreds of international exhibitors with their latest and greatest designs. Particularly of note were new launches such as Ross Lovegrove's spacey 'Acoustic Light Objects' for Barrisol, and &Tradition's latest luminous collections. Belgian and Dutch manufacturers were - as usual at the Biennale - out in force.

Bulo's new 'DAN' modular office system drew approving crowds, as did Sylvain Willenz for Objekten and NOTE Studio's new pieces for Per/Use. A collective show of all the Biennale's previous Belgian Designers of the Year is also a highlight - each showing new products: Jean-François D'Or, Alain Gilles, Nathalie Dewez, Bram Boo, Alain Berteau, Sylvain Willenz, Nedda El-Asmar and Stefan Schöning.

Around town Paris design studio Pool put on a standout exhibition inside the soon-to-be-demolished Broelschool building and London-based duo Glithero are staging an installation in the Broelmuseum. Called 'Fantoom', the duo uses glass surfaces and light to represent the museum's artefacts to visitors as ephemeral reflections. The aim? To give visitors a different point of view.