Interieur 2012 design biennale, Kortrijk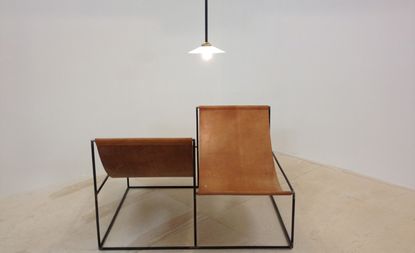 (Image credit: TBC)
Interieur design biennale (opens in new tab) set a new standard for the design fair experience during its 23rd outing in Kortrijk this week, thanks to forward thinking new curator Lowie Vermeersch (opens in new tab). The former design director at motoring brand Pininfarina (opens in new tab) not only upped the quality of the exhibitors for this by-invitation-only fair, but ensured that every aspect of the exhibition got the design treatment - from the stands themselves right down to the 'host' and 'hostess' uniforms and the numerous bars and eateries.

'We invited not only designers but also architects and artists [to participate in the fair],' said Lowie, 'so we really approached the Interieur in a multidisciplinary way.' International big guns including Studio Makkink & Bey (opens in new tab), Troika (opens in new tab), Nendo (opens in new tab), Greg Lynn (opens in new tab) and Muller van Severen (opens in new tab) were asked to fill their own spaces in the exhibition, responding to the theme of 'Future Primitives'. This proved the highlight of the fair, with a particularly strong offering coming from Antwerp-based studio Muller van Severen, which produced a beautiful and refined collection of metal furniture, enhanced by a bold colour palette.

Interieur design biennale's main hub remained the Kortrijk Xpo (opens in new tab), navigated by new zigzagging walkways-cum-installations, designed to enhance visitors' journeys through the show. But the Interieur also broke out to a new destination - a cluster of gallery spaces on Buda Island in the centre of town, made easily accessible from the Xpo thanks to a fleet of Audis (opens in new tab).

Here, visitors could marvel at Troika's 'Arcade' lighting installation, which played with the architecture of the gallery, and Sou Fujimoto (opens in new tab)'s 'In the Clouds' installation - originally conceived for Wallpaper* Handmade - among other projects. Visitors to Buda Island could also take time out in Design Marketo (opens in new tab)'s Interieur Bistro, feasting on dishes made from locally ingredients while seated on furniture lent by exhibitors at the fair.

The brainchild of non-profit organisation Interieur Foundation (opens in new tab), Interieur isn't just the preserve of design professionals. In fact, its chief aim is to educate and inspire the general public about design, which this year - thanks to Vermeersch's curatorial vision - it did in spades.

ADDRESS
Design Biënnale vzw/npo
Groeningestraat 37
8500 Kortrijk
Belgium
VIEW GOOGLE MAPS (opens in new tab)