Rodriguez scent, designed by Lovegrove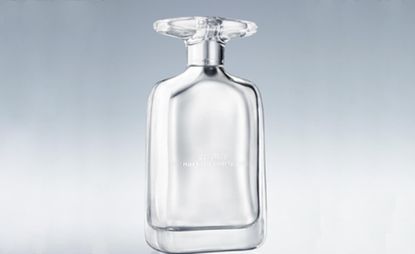 (Image credit: TBC)
Wallpaper* Newsletter
Receive our daily digest of inspiration, escapism and design stories from around the world direct to your inbox
Thank you for signing up to Wallpaper. You will receive a verification email shortly.
There was a problem. Please refresh the page and try again.
Narciso Rodriguez and Ross Lovegrove collaborate on new fragrance
Second fragrances are notoriously hard nuts to crack. Especially when your first was an unmitigated success. Such was the case for Narciso Rodriguez, the New York designer whose scent For Her was the surprise hit of 2003. The work of the highly regarded young nose Francis Kurkdjian, it closely mimicked a favourite musk oil the designer was inseparable from, and as such told a very personal story – which is often the surest way to create something unique and distinguished. For Her came in a black, blocky bottle designed by Rodriguez himself.
Setting about a second fragrance, as business will at some point require, is a bit like trying to force your hand into a new signature. But Rodriguez has given himself time to find a reason to embark for a second time on capturing something of his vision in a bottle.
Called Essence, the new scent, which launches this summer, is in fact a three artist performance – with Rodriguez wielding the baton. BPI, the fragrance manufactuers drove the business side, the respected master perfumer Alberto Morillas was appointed the nose, and Ross Lovegrove was commissioned to design the bottle.
Rodriguez wanted something futuristic to contrast the romanticism of his first scent. He wanted something singular and surprising, and modern. But the starting point was the same as far as the juice was concerned "Narciso gave me a vial," says Morillas "containing a musky smell." Musk again was the starting point, but Morillas developed a new transparent musk for this scent, tempered it with Bulgarian rose, iris and amber. "We wanted a luminous smell. This is a very modern musk but still sensual."
The most notable course-change in the development of Essence, however, was the decision to approach Ross Lovegrove to create the bottle.
"It's rare that two designers come together in this way," says Lovegrove at the launch of Essence in New York. " Usually the bottle is anonymous." Lovegrove had never designed a perfume bottle before, and busy as he is designing airline interiors, office systems, street lighting, watches, taps, and suitcases, might not have entertained the idea had Rodriguez not shown up in person at his studio in London. "He was fascinated by what I did and took the trouble to come to my studio," says Lovegrove. "As a designer I don't approach anybody, I do what I do and hope that is what attracts people. You have to stand by my philosophy – if you don't have a chemistry it doesn't work. I knew Narciso Rodriguez and his work and I find him creatively consistent and very interesting."
While it was the futuristic side of Lovegrove's work that attracted Rodriguez, it was the free hand to create a unique sculptural piece for the bottle that made Lovegrove sign up.
"Something is only futuristic if it can't be made," says Lovegrove. "You have to look for evolution – not necessarily radical. There has to be respect for the heritage of the brand. I work like a sculptor. Design as art. So this bottle is unlike any other bottle." He has indeed innovated by mirroring the surface from the inside creating a finish he describes as the most neutral of all – it reflects its context. "This bottle has more than the value of itself – it has intellectual value. You can't see the declining level of the perfume. It is the same at beginning as it is at the end. And at the end it can be still considered as an art piece."
It is yet to be seen if Essence will make the transition from dressing table to mantlepiece once the last of the juice has drifted into the ether, but it is clear that much fresh thinking has gone into creating this particular "follow up" and it is fully deserving of a bit of attention.
Receive our daily digest of inspiration, escapism and design stories from around the world direct to your inbox