Layer unveils giant installation for Cosentino at Milan's Central Station
Opening during Salone del Mobile, Raytrace is inspired by the interplay of light and water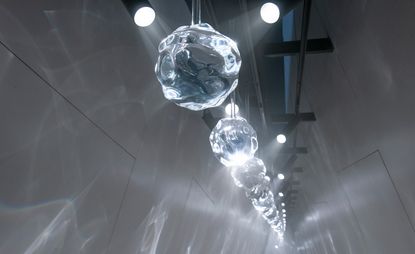 (Image credit: David Zanardi)
Wallpaper* Newsletter
Receive our daily digest of inspiration, escapism and design stories from around the world direct to your inbox
Thank you for signing up to Wallpaper. You will receive a verification email shortly.
There was a problem. Please refresh the page and try again.
In an enormous, clinically clean facility in Almería in Spain (just one of seven it operates in the city), Cosentino captures and compacts geological time, magicking a marble-like material from mineral dust using the most advanced industrial science. For the past 12 years, it has been using Salone del Mobile to showcase what it can do with its time-crunching, 200m-long ovens, collaborating with the Campana brothers and Antonio Citterio among others. This year it is upping the ante, certainly in terms of scale and technical ambition. Raytrace, a giant installation that will take over a vaulted warehouse at Milan's Central Station, is a collaboration with Benjamin Hubert's London studio, Layer.
Its interior made aquatic by shifting patterns of light, the piece is a triangular tunnel covered inside and out in 3.5m by 1.5mm slabs of Dekton, a super-hard material Cosentino conjures from ingredients usually used in the production of glass and porcelain.
Hubert developed the concept after a visit to the dedicated Dekton factory. 'It's a designer's dream,' he says. 'The process is highly technological but quite craft-based as well; it's an intriguing split. And part of that process is removing any traces of water content from the material using incredible heat and pressure.
'The idea of the installation was to reintroduce the water, or at least the light patterns you get from water, the effect of light playing on a bridge over a river. It's something that always captures the imagination.' Achieving that effect has taken some time, effort and algorithmic trickery. 'We wanted to get the maximum effect from the smallest thing,' says Hubert. 'Initially we tried using a thin layer of moving water on glass but it just felt too literal. Then we thought about the way a glass sphere can scatter light.'
Computers were deployed to design five different types of glass spheres that could create the kind of caustic patterns Hubert and his team were after. The final installation will feature 29 of these spheres, rotating under the cool light of 87 LEDs. The mirrors at each end of the tunnel should amp up the aquatic intensity and Hubert is confident that the effect will be intense and infinite in its variety. Meanwhile, the tunnel's exterior 'will be hit with video-imaging lights, a pure white block with no hot spots,' Hubert says. 'So there is refraction on the inside and reflections on the outside, and optical illusions wherever you look.'
Cosentino has managed to slim down Dekton since its creation in 2012, and Raytrace will be clad in a new ultra-thin version of the material. Cosentino vice-president Santiago Alfonso Rodriguez hopes it will alert visitors to the full potential of Dekton; both architectural – it's been used on the exterior of Ron Arad's new Totzeret Haaretz in Tel Aviv – and domestic. The 4mm-thick product's lighter weight means it can be used on kitchen doors and bathroom walls. Raytrace is a kind of monument to the collaborators' ambition and technical nous.
'It is an ambitious project and it's one you sort of have to suspend disbelief on,' says Hubert. 'It's hard to know what you will see until it is finished. But Cosentino just jumped right in. At every turn they have said, "Yes, we can do this." So we just had to deliver.' And Hubert hopes it is a piece visitors will take time to experience rather than quickly Instagram and move on: 'I'm hoping that people will be drawn through.'
As originally featured in the May 2019 issue of Wallpaper* (W*242)
Discover more from Salone del Mobile here
INFORMATION
Raytrace is on view from 9-14 April. For more information, visit the Ventura Projects website, the Layer website and the Cosentino website
ADDRESS
Ventura Centrale
via Ferranti Aporti 27
Milan
Receive our daily digest of inspiration, escapism and design stories from around the world direct to your inbox