Designer Ben Kelly on The Haçienda stripes, Virgil Abloh, and fresh adventures in orange
Having created The Haçienda's bold stripes, designed legendary record sleeves and rescued the colour orange from style oblivion, influential British designer Ben Kelly continues to make his mark with sculptural installations and graphic interiors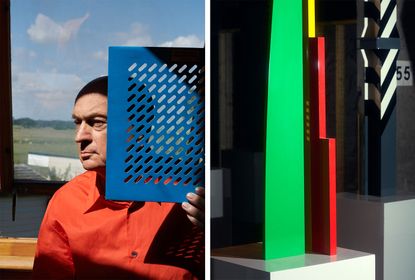 (Image credit: Tex Bishop)
Regaled with Ben Kelly's tales from the heady heights and very late nights of the 1980s Manchester rave scene, it's easy to feel transported right back to the heyday of his best-known creation, the city's legendary Haçienda nightclub. 'There was this very anarchic approach to everything,' he says. 'We all just wanted to break the rules.'
Transported only briefly, though, as Kelly, now 73, is talking animatedly over a cup of tea in his studio, which sits in the backyard of his coastguard's cottage on the East Sussex coast. It is lined with shelves that creak with stacks of design and art books; through the window, a John Constable-worthy powder-blue sky hangs above rolling hills dotted with cows and sheep, grazing just beyond Kelly's own vegetable patch. While Kelly still lives mostly in south London, he bought his Sussex sanctuary 15 years ago. Originally built in 1900 to clamp down on rampant smuggling in the area, the house was most recently owned by the photographer Fay Godwin. Since then, it's become a place to rekindle his creative energy during quieter periods between projects and teaching. 'I spend as much time here as possible, and I use an old-school drawing board,' he says.
Kelly's kit might be old school, but his work couldn't feel more current. Last year, he helped launch a Kickstarter campaign to produce a book about The Haçienda, titled Haçienda Landscapes. To his surprise, the campaign overshot its target. (The 40th anniversary of the club in May 2022 attracted interest both from those nostalgic for times spent there, and a new generation fascinated by its cultural legacy.) 'For so many years, I didn't want to talk about The Haçienda, as people thought that's all I'd ever done, which is completely not true, and it kind of annoyed me,' Kelly says. 'I called it the monkey on my back, as it wouldn't go away. But then I realised it was a gift. It opened doors to so many other projects.'
That Kelly's pioneering vision has been embraced by a new generation of fans and followers is in no small part thanks to his regular collaborations with Virgil Abloh.
It began when the late American designer drew inspiration from the famous Haçienda black and yellow stripes for the logo of his Off-White brand. The pair first met in 2016, and their rich creative alchemy is evident in collaborations that range from a mobile installation for Abloh's DJ sets to an immersive room at London's 180 The Strand that recreated the ruins of an abandoned nightclub. (Kelly's work has also been referenced by the likes of Raf Simons and Yohji Yamamoto, further reflecting his cultish following in the world of fashion).
This year, 180 The Strand is hosting Kelly's International Orange & Falling Columns, an installation featuring 120 tins of orange paint, revolving mirrors and a digital collage on the totemic properties of the column, as well as Columns 22, as part of its 'Future Shock' show, until 28 August 2022 (featured in our round-up of London art exhibitions). Also in the works is a project with OMA, set to debut at the Manchester International Festival next year. It reimagines a sprawling space in the city's old Granada TV Studios to carry echoes of The Haçienda's multi-use layout, which at points housed everything from a cafeteria to a hairdresser.
Kelly grew up in the heart of the Yorkshire Dales, where he attended a local primary school that had just 11 students. 'Academically I was hopeless, but I was buying New Musical Express and Melody Maker. Even now, I don't know how the hell I got them up there,' he recalls. 'Through that, I became obsessed with what people were wearing. Art school just became this magnetic force.' Kelly headed off to study interior design at Lancaster College of Art, and then set his sights on moving to London after becoming fascinated by the bohemian circles David Hockney was running in at the Royal College of Art. 'It just sounded like the most glamorous, exciting place.' While completing an MA course in interior design, he fell in with the capital's nascent punk scene, working closely with Malcolm McLaren on everything from a studio for the Sex Pistols to a storefront for McLaren and Vivienne Westwood's notorious Seditionaries store on the King's Road (Kelly even spent a night in prison following the Pistols' infamous 1977 Jubilee boat party).
Meanwhile, Kelly's girlfriend at the time, a fashion designer, introduced him to the founders of the avant-garde boutique Howie, and when they opened their first store in Covent Garden, Kelly was their first pick to design it. 'I designed perforated panels to go behind the glass doors,' he says. 'That became really quite an influential piece of work, and it led to my meeting with Peter.'
Peter, of course, being Peter Saville. Today renowned as two of the most important designers in 1980s British music, the pair first met in a members' club in Covent Garden. When Saville was working on a record sleeve for the eponymous debut album of new wave band Orchestral Manoeuvres in the Dark, Kelly suggested he check out Howie's doors. The resulting sleeve in blue and yellow, a collaboration between Saville and Kelly, became a classic of its genre, even if it ended up serving as a calling card more for Saville than for Kelly. 'He was lifting a lot of my work, but he's admitted that,' says Kelly. (The pair are still very much friendly, Kelly hastens to add, and don't hold any grudges.)
Then came The Haçienda. Tony Wilson, the maverick TV journalist-turned-cultural impresario behind Factory Records, had initially earmarked Saville as the obvious choice to design the space after working with him on artwork for Joy Division. Saville quickly realised it was beyond his capabilities, and suggested Kelly for the job. 'I went on a train to Manchester, they took me around the premises. It was an ex-yachting showroom, a huge industrial space that had been empty for ages, dirty, filthy, falling apart on the inside,' says Kelly. 'And then they said: "Do you want to do it?" I said, "Of course I do!"'
RELATED STORY
For more than a year, Kelly commuted between London and Manchester to bring his vision to life. Even so, the conversations that led to the club's most influential design features – the hazard stripes, the cat's eyes, the traffic bollards – were soberingly practical. 'We literally put the stripes on to mark the columns as a danger,' says Kelly. 'The materials were flexible and long-lasting and they all just worked really well.' That's not to say that Kelly didn't immediately appreciate the aesthetic value of those design details – columns with zigzag stripes remain one of his design signatures to this day. 'Wherever you go in the world, whichever cities you go to, the big historic buildings all have columns. They speak about power and rules and money and social structures, but their values have changed over time,' he says of his enduring fascination with the motif.
Kelly, who always wants to reach a wide audience, cites Marcel Duchamp and Andy Warhol as his heroes. 'It's all about attitude,' he says. 'Putting silver foil on the walls [at the Warhol Factory] was a really easy thing to do, but it was also radical and imaginative.' In 1995, Kelly was commissioned to design the basement of the London Science Museum – a space specifically conceived for education and outreach projects. It proved to be one of the most valuable experiences of his career. 'That was the first project where I could really see it having an effect on a wider public – when they walked in, I wanted the hairs on the backs of their necks to stand up,' Kelly says.
Throughout the following decades, he built up a successful interior design practice based in London's Borough Market, working for clients as varied as the V&A, cycle retailer Halfords, and fitness chain Gymbox, before he decided to dial things back a notch and return to working solo in the early 2010s.
Around that time, Kelly first encountered the up-and-coming Abloh, whose Off-White logo had stripes that felt strangely similar to his own. 'Before I'd even heard of Virgil himself, I had friends sending me pictures of early Off-White designs with the stripes,' Kelly remembers, laughing. 'I thought, "What's going on here?"' Soon after, he received an email inviting him to an event Abloh was hosting in London. Unsure of how to respond at first, Kelly consulted his son, who works in music and answered with something along the lines of 'Dad, are you kidding? It's Virgil Abloh.'
'We spoke on the phone, and he was just such a lovely man,' Kelly remembers. 'He asked me to design something for him, and we talked about the columns at The Haçienda, and my first thought was to design a kind of system that he could use to transport his DJ booth wherever he was playing around the world.' The creative bond between Kelly and Abloh became one of the most fruitful in Kelly's sprawling five-decade career. It's not hard to see what might have drawn Abloh to Kelly, and vice versa, with their genre-bending understanding of how music, design, and architecture could intersect, as well as their gimlet eye for taking the everyday and elevating it to the highest echelons of design.
Just before I'm ready to leave Kelly's studio, he gleefully picks up a T-shirt emblazoned with the sentence: 'Ben Kelly rescues the colour orange from the scrapheap of style.' The words are from an article on his agenda-setting design of the King's Road hair salon Smile in the early 1980s, but here they are printed in Helvetica Bold, an Abloh signature. Kelly insists: 'It will go on my tombstone.' For while Kelly's influence is very much alive, he's more philosophical when it comes to his legacy as a designer. In 2016, Kingston University – where he has taught for more than two decades – purchased the bulk of his archive with the intention of providing a dedicated space to show it. 'I want the archive to be not just about the students, but also open to a wider audience. It's about bringing everyone into the fold.'
It's a spirit of inclusivity, yes, but most of all, one of curiosity. Kelly's career is a lesson in taking things as they come, even when that means a knock on your door from a zeitgeisty fashion designer to revisit a project from decades ago. And while Kelly's life in rural Sussex might seem charmed on the surface, that anarchic spirit still lies beneath. 'Everything has always led on to all sorts of other things,' says Kelly. 'There are all these stepping stones along the way, from The Haçienda and Peter to Virgil and art exhibitions, but it all feels part of the same weird trajectory, the same weird journey.'
INFORMATION
benkellydesign.com (opens in new tab)