Welcome home: decorative masters embellish the Villa Empain in Brussels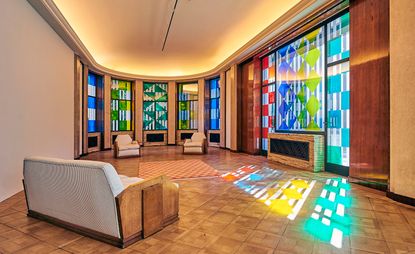 (Image credit: press)
We have become so used to looking at art from an analytical viewpoint – searching for the artist's philosophy, methodology, identity and intent – that we often forget, or deliberately neglect, the principal function of art. Before the modern era, art served primarily to decorate architecture and spaces in order to make life richer and more joyful. As Asad Raza, artistic director of Villa Empain in Brussels, reminds us, 'Being pleasing to the eyes is a deeper matter than one sometimes thinks.'

Now, in a new exhibition at the villa, co-curated with Tino Sehgal and Dorothea von Hantelmann, "Decor" takes a look at the decorative function of modern and contemporary art and its part in simply being a beautiful component of an environment. An important part of art deco and the architectural heritage of Brussels, Villa Empain was originally designed by Swiss architecture master Michel Polak in 1934 and was acquired by the Lebanese-Armenian Boghossian Foundation, which in 2006 decided to turn it into an art platform.

Art deco refers to arts that are stitched into all different aspects of life. 'My goal is to bring the art exhibition closer to life, for the villa to be seen more as an inhabited house than a container for objects. I want to do exhibitions that will really work with the building,' says Raza, 'The idea for this show, 'Decor', is that we go with works that don't need to be the centre of attention, dominating all the meaning of the room – but at the same time are not afraid to decorate the space.'

Given that most of the artists today work on the contrary – to create works to be centre stage – the curators gave the exhibitors a chance to think and respond from a different perspective. Four artists have been commissioned to create new works for the show – Daniel Buren covered up windows on the back side of the villa with colourful squares; Pierre Huyghe is showing his narrated aquarium Cambrian Explosion 14; Waqas Khan's wall mural installation and Dominique Gonzalez-Foerster's Chambre (L'inhumaine) are sited on the first floor. On top of that, works from Carl Andre, Marcel Broodthaers, Latifa Echakhch, Felix Gonzalez-Torres, Milena Muzquiz and Rosemarie Trockel have also been brought to the show.

'These works hold the relationship between viewers and the villa; they bring you close to the villa as much as to the works themselves,' Raza says.
INFORMATION
'Decor' is on view until 29 January 2017. For more information, visit the Villa Empain website
ADDRESS
Villa Empain
Avenue Franklin Roosevelt 67
1000 Brussels
Yoko Choy is the China editor at Wallpaper* magazine, where she has contributed for over a decade. Her work has also been featured in numerous Chinese and international publications. As a creative and communications consultant, Yoko has worked with renowned institutions such as Art Basel and Beijing Design Week, as well as brands such as Hermès and Assouline. With dual bases in Hong Kong and Amsterdam, Yoko is an active participant in design awards judging panels and conferences, where she shares her mission of promoting cross-cultural exchange and translating insights from both the Eastern and Western worlds into a common creative language. Yoko is currently working on several exciting projects, including a sustainable lifestyle concept and a book on Chinese contemporary design.