New Hope is Brussels' treasure trove of 20th century design
Olivier Dwek creates gallery New Hope, a treasure trove of 20th-century design in Brussels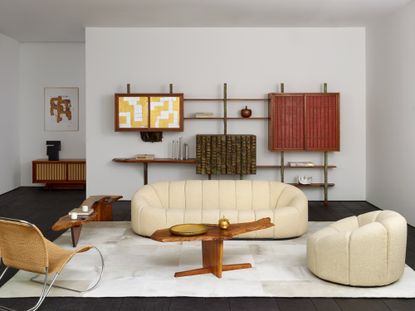 (Image credit: PHILIPPE GARCIA)
With its rich artistic heritage, Belgium is fertile territory for art and design collectors, and two of them – Belgian architect Olivier Dwek and businessman Frédéric Hanrez – recently united to create a stunning new gallery space in Brussels. Called New Hope, it opened its doors during the Brafa Art Fair in January.
Dwek is a tousle-haired character with a wickedly good eye and the confidence to take a morning Zoom call in his bathrobe. Architect to Belgium's crème de la crème for the past 20 years, he is still something of a secret beyond the country's borders (though, with seven Parisian projects under way and the release of a monograph published by Rizzoli, this will soon change). Growing up in a business-focused family, Dwek was an outlier with a passion for art.
He devoured autobiographies of Impressionists and Post-Impressionists, learned to draw nudes at the Académie des Beaux-Arts, then studied architecture at the Institut Victor Horta. He is a collector, too. 'Art helped me to sharpen my eye,' he states. At only 28, he was commissioned to refurbish Louis Vuitton's Brussels store, and in 2000, he founded his own studio, creating light-filled, modernist-inspired homes for well-heeled clients, often curating the art and design within.
Hanrez is a Belgian entrepreneur as discreet and low-key as Dwek is bold and exuberant. A scion of an illustrious Belgian family with a lifetime passion for collecting, Hanrez realised about 20 years ago that he could get more bang for his buck with design. 'I prefer to have the best in design, rather than second best in painting,' he says. Having spent part of his childhood in Wisconsin, he was attracted to the craft spirit of American design, and now owns one of the world's finest private collections of American 20th-century furniture, notably from New Hope, Pennsylvania.
In 2003, Hanrez inherited a building in central Brussels. Part of a family estate, the building had been turned into a ballroom by his great-great-great grandfather in 1865 to celebrate his 25th wedding anniversary. By the time Hanrez took it over, the ballroom was a ruin. It sat directly across the street from one of Brussels' most iconic pieces of architecture (and a Unesco World Heritage Site), the former home of art nouveau master Victor Horta, which is now the Horta Museum. In fact, Hanrez says, Horta chose the address because the ballroom was low enough to afford him a view of its splendid garden. When Hanrez asked for a permit to raze the ballroom and construct a new building, the local authorities ordered him not to build any higher, in order to keep Horta's beloved view intact.
Hanrez commissioned Dwek, a friend, to come up with a new space for what he calls his 'three-dimensional art'. They tore down the old structure, leaving the street façade, which the authorities also required be left intact. They then searched out extraordinary materials – black lava floor stones from Malta, Swiss-made floor-to-ceiling windows, and black 'Kolumba' bricks handmade by family firm Petersen Tegl in Denmark.
New Hope took nearly five years of construction. Though it measures only 550 sq m, it feels larger, thanks to plenty of natural light, a double-height ceiling and multiple levels. Out back, the parallel lines of the awning and patio wall frame the park's mature trees like a painting.
Graphic black and white tones provide a neutral backdrop for the collections, with a dramatic dash of colour from a massive green marble wall. Dwek meticulously selected the stones so that the veins would create a mirror effect, like a two-way Rorschach inkblot (the green wall also makes a nod to Mies van der Rohe's Barcelona Pavilion).
Overlapping stone steps to a raised ground-floor level create a flowing effect, like flat rocks in a stream. A skylight is supported by black steel beams that Dwek compares to the legs of a Jean Prouvé table. The black lava flooring extends beyond the sliding glass wall to the patio, creating continuity inside and out. 'There is no difference between architecture and interior architecture,' insists Dwek, noting that predecessors such as Horta and Mies van der Rohe would not have dreamt of doing a building's envelope and leaving the interior to someone else.
Standing in the garden, he points out the parallels between New Hope and the Horta house rising behind it: rooftops that are peaked on the left and lower on the right, three vertical windows on one side, bay windows on the other.
Hanrez is using the gallery to host temporary exhibitions, often in dialogue with his own collection, which is rich in pieces by Americans (George Nakashima, Phillip Lloyd Powell, Paul Evans and Sam Maloof ) and Belgians (Ado Chale and Jules Wabbes), as well as rare Scandinavian design. 'I'm trying to keep this space dynamic so that people come,' says Hanrez. 'They know something will be happening here, and it's always different.'
For the images on these pages (and in his new book), Dwek filled New Hope with works from Hanrez's holdings and two other major Belgium-based collections. Hanrez's American masterpieces, including an elaborately sculpted bronze cabinet by Paul Evans, shared the space with furniture by the likes of Jean Royère and Alexandre Noll from the collection of Frenchman Daniel Lebard, another low-profile figure. 'He denies it, but he is the world's biggest collector of French furniture from the 1950s,' Dwek says. On the walls, Dwek put artwork by Richard Prince, Richard Serra and Philip Guston, all belonging to the collection of his friend Charles Riva.
Including New Hope, three of the nine buildings that Dwek selected for the book are foundations or centres for art, and he is keen to design more. 'There aren't many architects who know how to do it well,' he says. 'A piece of artwork releases vibes into the atmosphere – positive, negative, happy, sad. Architecture plays an enormous role when it can make those vibes resonate.'
INFORMATION
New Hope, 26-28 Rue Américaine, Brussels
Olivier Dwek: In the Light of Modernity, $65, published by Rizzoli
rizzoliusa.com (opens in new tab)
A version of this article appears in the November 2021 issue of Wallpaper* (W*271) on newsstands and available to subscribers (opens in new tab).