Step inside Chiharu Shiota's doll's house
In 'Living Inside' at Galerie Templon, Brussels, the Japanese artist cocoons dolls houses and miniature furniture in her signature thread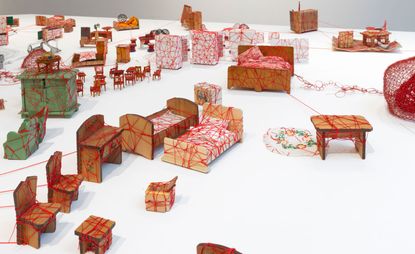 (Image credit: Isabelle Arthuis)
Japanese artist Chiharu Shiota is best known for art that consumes its viewers. These entanglements, blood-red, black or white threads often ensnare personal objects – from clothes, keys, boats, suitcases, to the artist herself.

Shiota's large-scale installation art often appears as though humans can weave webs, but at Galerie Templon, Brussels, the artist has downsized to spider-scale for a new diorama.

Like many artists during our planetary confinement, the artist took the opportunity to reflect on the comfort blanket of domesticity. This resulted in a parallel world, a model city of furniture bound up in black and red thread.
Her new show, 'Living Inside' at Galerie Templon, Brussels, introduces a series of delicate sculptural works, focusing on notions of home, immobility, silence, confinement and the fragmentation of our daily routines.

As the artist explains, 'We are connected, since we are all in the same situation. Everyone is sitting at home looking at their furniture and asking questions about the outside world, which right now has been reduced to a mere memory.'
RELATED STORY
Multimedia artist Chiharu Shiota, in April 2019 in her Berlin studio
Using doll's houses and miniature furniture, her Shiota plays on the notion of scale and our new bond with everyday objects. It creates both a familiar and unnerving effect – are these objects wrapped in a comforting cocoon, or held captive? In this ambiguous, bittersweet approach, she unpacks the codes of a living space that has been drastically reframed.

Elsewhere, the artist presents a new series of drawings, created in the solitude of her deserted studio. These enigmatic, spectral figures are trapped in waves or spiral forms, interlinked by red or black threads.

Shiota is an artist who has long been gripped by the invisible ties between beings. Frozen in time, her new miniature worlds evoke both home comforts and an unsettling universe, shrunken in scale and potential. They invite us to meditate on the surrealism of the last year when time was warped, and the macro became micro.
INFORMATION
Chiharu Shiota, 'Living Inside', until 24 July, Galerie Templon, Brussels. templon.com
ADDRESS
Rue Veydt 13A
1060 Brussels
Harriet Lloyd-Smith is the Arts Editor of Wallpaper*, responsible for the art pages across digital and print, including profiles, exhibition reviews, and contemporary art collaborations. She started at Wallpaper* in 2017 and has written for leading contemporary art publications, auction houses and arts charities, and lectured on review writing and art journalism. When she's not writing about art, she's making her own.