In memoriam: André Dubreuil (1951 – 2022)
We celebrate the life and work of André Dubreuil and his inventive design pieces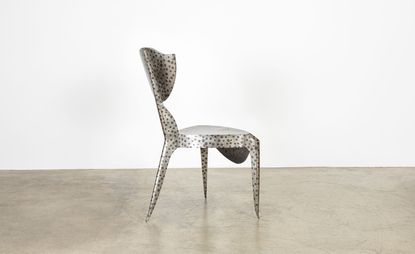 (Image credit: Photography by Daniel Kukla, image courtesy Friedman Benda)
No one ever purchased an André Dubreuil chair for its comfort or practicality. His creations, although constructed from metals, are delicate, elegantly proportioned, exquisitely balanced and unashamedly ornamental. 'My furniture will never be defined by its function,' Dubreuil once said. 'The eye needs to be attracted, hooked and focused on the surfaces of things.' And what shimmering surfaces. What delight for the eyes.
Dubbed poète du fer (poet of iron) by biographer Jean-Louis Gaillemin, Dubreuil created highly inventive pieces, both fantastical and classical – bold adventures in metallurgy and glass, referencing Émile-Jacques Ruhlmann, the silhouettes of André-Charles Boulle, French ébénisterie (cabinetmaking), Louis XV Rocaille style, Jules Verne's monsters, Jean Cocteau and cocktail society, often in a single, extraordinary expression of a copper screen, enamelled armoire, blowtorch-spotted chair or spider-legged table.
In later life, as his earlier works were busy fetching hundreds of thousands in Paris and London auction rooms, Dubreuil and his small team retired to an atelier at Château de Beaulieu, his beautifully decorated family seat in the Dordogne, to make clocks, trophies and sumptuous new furniture pieces in glass, wood, cloisonné and porcelain, never accepting commissions to remake old editions and refusing to revisit any past, Baroque 'n' roll glories.
The son of a Lyon pharmaceutical and medical research family, Dubreuil moved from France to London as teenager to study drawing and draughtsmanship at the Inchbald School of Design in Belgravia. He worked as a trompe l'oeil painter and decorator/retailer at (fellow Inchbald graduate and interior designer) Christophe Gollut's Alistair Colvin store in Chelsea.
A request to help create the interior of Rococo, a Kings Road chocolatier that opened in 1983, changed his life. With the young Tom Dixon, employed to weld furniture and Arabesque light fittings for the tiny boutique, running late on the day, Dubreuil took over. 'I helped him [Dixon] to make his chandelier and I was suddenly hooked with the soldering iron,' he recalled. 'That was that. I was welding in my flat – my poor neighbour – all night.' It is worth noting that Debreuil's small Ladbroke Grove flat was lined in floor-to-ceiling velvet.
In 1981 Dubreuil set up an All Saints Road workshop with three fellow bricolagistas – Nick Jones, Tom Dixon, Mark Brazier-Jones – turning rusty lengths of scrap rebar, kitchen pans and old car parts into statement furniture pieces, establishing a loose design collective known as Creative Salvage. Later, he moved to a home and workspace (also shared with Dixon) at a converted Troll factory on Beethoven Street in unfashionable W10, where Dubreuil's Airedale terrier, Rhulman would regularly dig up whole families of pink but hairless toys, discarded as rejects in the backyard.
Tom Dixon, who schooled Dubreuil in the ways of oxyacetylene, recalls the Frenchman being a demon with the angle grinder 'sparks flying for hours and hours, making a dreadful noise, just so he could get the exact finish he wanted'.
'Having grown up in a wealthy family, surrounded by beautiful furniture, André had enjoyed a classical upbringing. He was aware of stuff like proportion and finishes, so naturally had a different take on things,' says Dixon. 'Sharing a studio, we did influence each other, but I think he found us [Dixon, Jones and Brazier] a bit brutal, chaotic and constructivist for his tastes.'
As the Creative Salvage group fragmented, Dubrieul was soon producing furniture of distinctive aesthetic and grand vision for customers that included fashion editor Hamish Bowles, fashion designers Scott Crolla, Georgina Godley and Dean Bright (also Dubreuil's boyfriend for a while), as well as prestigious clients like Chanel and Louis Vuitton.
His low-raked 'Spine' chair and wrought-iron 'Ram' chair, both designed in the mid-1980s, remain prized and collectible, bonafide 20th-century classics, and Dubrieul himself, a veritable ferrailleur.
Receive our daily digest of inspiration, escapism and design stories from around the world direct to your inbox