'A Search Behind Appearances': Hella Jongerius' shadow play at La Rinascente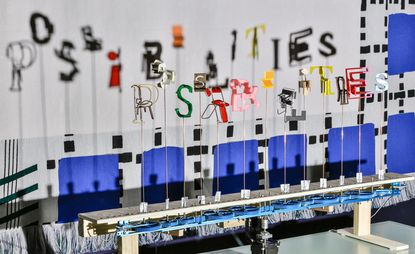 (Image credit: Courtesy of La Rinascente/Serpentine Gallery)
Thousands of exhibitions took place in Milan during Salone del Mobile as they do every year, presenting new launches and exciting concepts; but few are as analytical or highbrow as Hella Jongerius and Louise Schouwenberg's window displays for La Rinascente, commissioned by the Serpentine Galleries.

Reflecting on the state of affairs in design and prompting a consideration of the meanings that hide behind a display, 'A Search Behind Appearances' proposes we move beyond commercial success, beyond style differences and beyond personal taste.

'For decades design has been reduced to the production of mere style differences, a deceitful play of illusions, and an accompanying marketing verbiage,' states Jongerius. 'With this [showcase] I don't want to say "this is good design, this is bad design", I wanted to address something in the making. It was a search that took half a year and a lot of debate. We came up with the idea of the shadow play, showing what is behind an object, the meaning behind an object and how to make it larger than it's physical presence.'

The collaboration between Jongerius and Schouwenberg picks up almost exactly where the pair left off last year with their equally cognitive project 'Beyond the New – A Search for Ideals in Design'. 'Can we give some answers to the questions [we posed last year]? How can we come to solutions or give them a physical approach?' says Jongerius of their starting point for this year's project.

Resulting in a range of visual metaphors, 'A Search Behind Appearances' took over the famous department store's eight Piazza Duomo-facing windows during the foremost furniture fair. The first and last windows were dedicated to explaining the project while the six central displays housed fabrics with complex woven patterns onto which shadows – generated by small letters and scale models of designer items – dance around, gradually transforming into letters, words and back to their original forms.

'It's not that I have solutions or answers,' she humbly adds, 'It's about starting up a discourse: what can we design in a world of plenty? And how can we do it responsibly?' Apt questions considering the current climate.
INFORMATION
Photography courtesy of La Rinascente/Serpentine Gallery