Raffaele Salvoldi stacks hundreds of marble blocks for dazzling Milan installation
For a Milan Design Week 2023 installation, Italian artist Raffaele Salvoldi teams up with marble brand Salvatori to create architectural sculptures comprising hundreds of marble blocks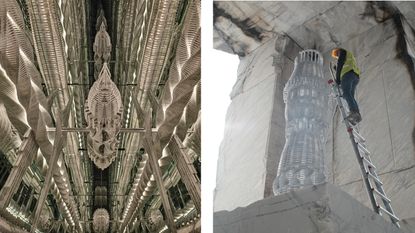 (Image credit: Salvatori )
In his sculptural work, artist Raffaele Salvoldi is best known for working in wood. His intricate sculptures rise like architectural monuments and are composed of hundreds of wooden planks from the construction game, Kapla, which are stacked up to resemble elaborate, gravity-defying structures.
For Milan Design Week 2023, Salvoldi, who is also a photographer and director, has joined forces with leading marble brand Salvatori – which has previously collaborated with the likes of John Pawson, Kengo Kuma, Piero Lissoni, Patricia Urquiola, Michael Anastassiades – to co-create a three-sculpture installation.
This time, Salvoldi isn't using Kapla, but natural stone. 'Wood and stone are two completely different materials. Wood is forgiving enough to offset any technical imprecisions, whereas with stone, you have to be precise down to the last millimetre,' Salvoldi explains. 'The meeting with Salvatori came about purely by chance but it was immediately clear that we were on the same wavelength. I'm not only fascinated by natural stone, but I also share Gabriele Salvatori's passion for seeking beauty in everything and by beauty, I don't just mean in the aesthetic sense, but as a tool for deciphering our world.'
Displayed both at the brand's showroom and boutique in Milan, each of the sculptures – titled Bianco Carrara, Grigio Versilia and Pietra d'Avol – is more than three metres high, and composed of rhythmic, spiralling blocks of stone. In keeping with the brand's sustainability mission, the material used by Salvoldi derives entirely from waste material from the marble production process.
Two of Raffaele's artworks will be on display on the ground floor of Salvatori's showroom at via Solferino 11. The first greets visitors at the entrance, while the second will be in the Room of Mirrors where its multiple reflections will create a dazzling kaleidoscopic effect.
The third piece will be constructed during Design Week at the Salvatori boutique on the corner of via Palermo and Largo Treves, where, as part of a live performance, the artist will build the work in real-time for all to see.
As CEO Gabriele Salvatori explains, 'the collaboration with Raffaele is a perfect fit with our philosophy of promoting designers, artists and work that demonstrate how human ingenuity and talent can become tools to raise awareness about safeguarding the planet, the most precious thing we have. Through Raffaele's works, we want to restore dignity to every single fragment of raw material by taking a parsimonious approach and highlighting the idea that "top-grade" and "second-grade" materials don't exist. Instead, it's up to us to be smart and use each element that nature provides in the best way possible.'
Raffaele Salvoldi's installation with Salvatori will be on view from 18-23 April during Milan Design Week 2023. salvatoriofficial.com
Harriet Lloyd-Smith is the Arts Editor of Wallpaper*, responsible for the art pages across digital and print, including profiles, exhibition reviews, and contemporary art collaborations. She started at Wallpaper* in 2017 and has written for leading contemporary art publications, auction houses and arts charities, and lectured on review writing and art journalism. When she's not writing about art, she's making her own.