New Vitra office chair by Antonio Citterio adapts to the modern workspace
Introducing the 'ACX', a new Vitra office chair that marks the company's latest collaboration with Antonio Citterio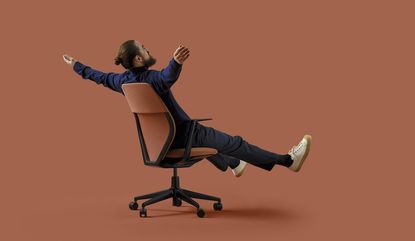 (Image credit: Courtesy Vitra)
Wallpaper* Newsletter
Receive our daily digest of inspiration, escapism and design stories from around the world direct to your inbox
Thank you for signing up to Wallpaper. You will receive a verification email shortly.
There was a problem. Please refresh the page and try again.
The latest Vitra office chair, the 'ACX', developed with Antonio Citterio, is the tenth in its line. It's the latest example of Citterio's fluid design philosophy and Vitra's answer to the modern office. Changing with the times, the chair aims to respond to hybrid and collaborative work methods, a variety of people and bodies looking to use it, and hopes to maximise sustainability.
Vitra office chair by Antonio Citterio: 'ACX'
After 30 years, Vitra's partnerships with Citterio and other leading designers have passed milestones in reimagining the office chair. From developing groundbreaking mechanisms for comfort, weight adjustment, and an eye for environmental issues, the ACX is the culmination of extensive industry experience and a unique ability to juggle the complex demands of its evolution.
The chair itself features a design that adjusts automatically to each individual, whilst including a number of hidden control elements to tailor their experience, placed under the seat. What remains is an uncluttered appearance, muted blocks of colour across the 100 per cent recycled knitted cushion covers, and a relaxed fit that blends into a variety of settings. Trimmed down to a refined aesthetic principle, the shape follows clean lines, with a minimal number of components to both simplify its servicing and recycling after use; many materials already having been reclaimed where possible. It's a surprisingly simple product, made to adapt to a complex world.
This responsive ideology is at the forefront of both Citterio's practice and the 'ACX's form. Whilst it boasts the culmination of Vitra's decades of technological progress and engineering, Citterio stresses that the chair isn't to be thought of as 'mechanical'. Instead of serving a particular function or use, the 'ACX' adapts to its environment.
Where industry pressures encourage mass production, everything from its weight to assembly time has been minutely calculated and worked into the design process in order to make the project viable. As our ecological standards grow more stringent, the chair has become reusable to match them, and maintains its quality through a long life of use. In both its appearance and underlying machinery, it has to appeal to an office environment increasingly taking on the qualities of our homes; especially once hybrid working is taken into account (it might find a place among our pick of working from home essentials).
In essence, the 'ACX' isn't a declarative statement in terms of visual design, but a reflection of the times in which it was made. A compact, sustainable, and subtle addition to the workplace, this office chair comments on our changing lives and commercial landscape. In an age where large-scale furniture manufacturers must adapt to thrive, Vitra's latest offering speaks louder than ever.
Receive our daily digest of inspiration, escapism and design stories from around the world direct to your inbox