The 'Shibari' chair by Studiopepe for Visionnaire celebrates the symbolism of the knot
The 'Shibari' chair by Studiopepe for Visionnaire is among our Salone del Mobile 2023 highlights, featured in May Wallpaper*, on sale 13 April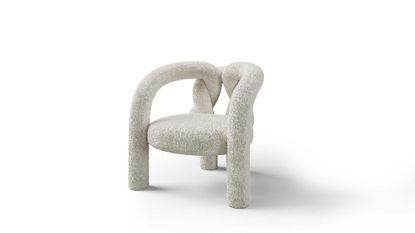 (Image credit: Courtesy Visionnaire)
Discover the Wallpaper* guide to Salone del Mobile 2023 and Milan Design Week
Studiopepe's design philosophy is based on extensive iconographic research, a conceptual approach to objects and a touch of the unexpected, giving a rich context to everything it does (including its 2023 horoscopes for Wallpaper*). Its penchant for symbolism is apparent in its latest creation for Visionnaire, the 'Shibari' chair, which is named after the Japanese word for 'binding' or 'tying'.
This is the second collaboration between the luxury interiors brand and the Milanese design studio, following a fruitful debut at last year's fair that featured a pair of fringed mirrors inspired by astrology, and a series of tongue-shaped lighting designs.
'Across history the knot has had many different meanings, including sacred and religious symbolism,' explain Studiopepe co-founders Arianna Lelli Mami and Chiara Di Pinto. 'In Egypt it represented life: the knot of Isis stood for immortality and divine love, while the endless knot is one of the most ancient motifs, used in Buddhist symbolism in China and Tibet, but also in geographically distant zones, to convey a sense of infinite devotion.'
The pair are also keen to point out that knots are also about connection: 'Since ancient times the knot has had a clear meaning of junction and commitment between two people. This meaning is immediately associated with love, precisely to emphasise the inseparable nature of a bond. It is not a noose, not a tight restraint, but an intertwined connection, representing a sense of give and take, of help in moments of need. Extended horizontally, it reminds us of the symbol of infinity: what could be a better way to represent everlasting love?'
Studiopepe's own knot takes shape on the backrest of its new 'Shibari' chair, which will be upholstered in Paddington, an ecological fur made from recycled PET, which itself will be recyclable. It will be displayed in Milan at the studio's 'Empire of the Senses' exhibition for Visionnaire.
Salone del Mobile, Fiera Milano Rho, Hall 5, Stand L11
Visionnaire Piazza Cavour, 3
Look out for more May 2023 issue of Wallpaper*, on sale 13 April, for more Salone del Mobile previews. Wallpaper* is available in print, on the Wallpaper* app on Apple iOS, and to subscribers of Apple News +. Subscribe to Wallpaper* today
Léa Teuscher is a Sub-Editor at Wallpaper*. A former travel writer and production editor, she joined the magazine over a decade ago, and has been sprucing up copy and attempting to write clever headlines ever since. Having spent her childhood hopping between continents and cultures, she's a fan of all things travel, art and architecture. She has written three Wallpaper* City Guides on Geneva, Strasbourg and Basel.