Scattered Disc Objects is a Milanese design studio placing craft in a fresh light
We speak to Iranian-Italian duo Scattered Disc Objects about their design process and key projects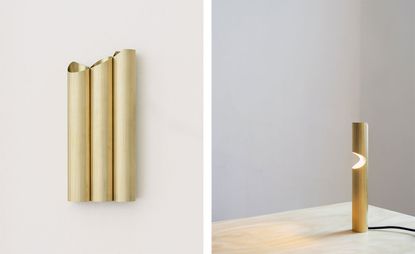 (Image credit: Marco Fava)
SDOBJS (which stands for Scattered Disc Objects) is a design studio from Piacenza, Italy, founded by architects Bahar Pourmoghadam and Marco Cattivelli, respectively Iranian and Italian. 'The scattered disc is a region in our solar system where various rocky bodies orbit in odd trajectories: it seemed like a good metaphor for our various interests,' they explain.
The duo founded their studio in 2020, with the aim of investigating the world of design and small-scale architecture with special attention to craftsmanship. 'We work in between industrial design and craftsmanship, with great interest in present and past manufacturing processes. For us, artisan production means embracing the process and acknowledging its value: the sense of a manual approach is also narrative, as the result contains further levels of meaning, personal and contingent,' they say.
With a personal approach towards creativity, they like to say that they believe above all 'in insecurity and doubt, in multiple readings of a phenomenon, in temporary conclusions: every project is an exercise, both intellectual and practical', elevating every new project to an experience or an adventure.
As they met at the Politecnico in Milan, they realised they shared the same sensibility towards the design industry and decided to pursue a creative career path together in 2020. 'Obviously, we didn't imagine what was about to happen [with the pandemic], but we don't regret the choice and the timing to start our working partnership. Meanwhile, we got married.'
Pourmoghadam and Cattivelli start all projects with thorough multidisciplinary research, before working on a first prototype, which they usually try to produce themselves with the help of artisans. 'We have different and complementary characteristics, but above all, working together allows a continuous discussion on the themes of the project and helps us to get out of the stalemate we sometimes find ourselves in, fully focused on one idea.' While Pourmoghadam is very critical of their own work and solid about decisions, she has a great sense of what fits the project or not. Cattivelli is more oriented towards construction and research, thinking in almost engineering terms and often dealing with the technological development of projects.
The duo have taken part in international events including Milan Design Week 2021, and the Nomad fair in St Moritz in 2022, where they showed hand-knotted rugs with Nodus. At Lake Como Design Festival 2022 they showed their latest project, called Armilla: 'it is a collection of customisable lights, made of graceful brass barrels. The fixtures contain small mirrors for reflecting the light, allowing a double degree of freedom – [both] in the arrangement of the striped rods, and in directing the flow of light where necessary. The output is a soft and warm light, for reading a book or having dinner with someone. The project is the result of a collaboration with our talented friends from Morghen studio.'
Their next project will be unveiled at the Salone del Mobile 2023, developed with a renowned Murano glassblower. On this occasion, the designers will move 'between tradition and technological innovation, with a strong bond to the island's cultural heritage.
'But we have a lot in store for 2023,' they say. 'A series of collaborations with companies in Italy and in Iran, and a self-construction project.'
sdobjs.com (opens in new tab)
Maria Cristina Didero is an independent design curator, consultant and author, who has contributed to many publications over the years; she is currently Milan editor of Wallpaper* . Didero has consulted for companies such as Vitra, Fritz Hansen, Lexus, Fendi, Louis Vuitton, Valextra among others. Based in Milan, she works internationally, curating exhibitions for institutions: some of her most recent projects include Nendo: The Space in Between and The Conversation Show at the Holon Design Museum, Israel; FUN HOUSE by Snarkitecture at National Building Museum, Washington D.C.; SuperDesign a project about Italian radical design, NY; Vegan Design, or the Art of Reduction by Erez Nevi and The Fish and The Crowd by Carlo Massoud, Milan. In April 2022 she curated a Mathieu Lehanneur exhibition at the Triennale in Milan called The Inventory of Life, while in July she debuted a project at the MK&G in Hamburg titled Ask Me if I Believe in the Future, alongside a series of ongoing collaborations. She was appointed 2022 Curatorial Director of Design Miami/. She is currently preparing two projects for Milan Design Week 2023.