S94 Design makes the most of its uptown location to blur the lines of art and design
S94 Design brings Kwangho Lee's first solo New York show, plus Donald Judd, Max Lamb and more to its Rafael Viñoly-designed location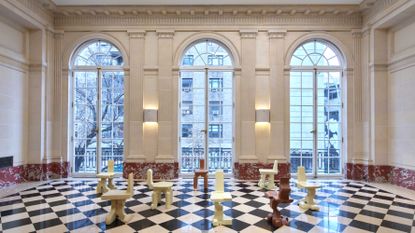 (Image credit: Image courtesy of the artist and S94 Design. © Max Lamb)
A historic New York landmark that long championed – and cradled – cutting-edge art is now the dedicated forever home of S94 Design.
The gallery platform – which had previously had a presence at 94th Street, the Bowery, and Freemans Alley – has permanently and exclusively set up shop in the Ogden Codman-designed building at 3 East 89th Street, dating from 1915. Founder Jeanne Greenberg Rohatyn acquired the building in 2019, renovating the space with the late Rafael Viñoly, and opening to the public in 2021, with shows by both S94 Design and the more art-focused platform Salon 94 (the latter has since merged with other galleries to become part of a new initiative, LGDR).
The property was originally built as a home for scion Archer M Huntington and sculptor Anne Hyatt Huntington, who bequeathed the Beaux-Art expanse to the National Academy of Design, which held court from its chiselled plaster walls and stone floors for nearly 80 years. 'Usually, this kind of architecture demands so much symmetry,' explains S94 Design director Zoe Fisher. 'That's what's so fun about programming in this space. The room informs the work, the work informs the room. They all have to work together, and we think very carefully about that.'
S94 Design at 3 East 89th Street
S94 Design's latest use of the space is a lovely spread of contemporary practitioners who slip between the lines of art and design. Among them are Kwangho Lee, Ernst Gamperl, Laurie Simmons, Max Lamb, Donald Judd, Philippe Malouin, and Tom Sachs.
'We actually have brought more art into the fold,' says Fisher. 'Our definition of design is kind of getting looser and looser because it's part of our ethos.' In the ground-floor gallery is 'almost a retrospective' of not-yet-middle-aged Kwangho Lee, with whom 'we've done tons of different projects but for one reason or another, this is the first time we've had a monumental exhibition', explains Fisher.
Lee's instantly recognisable, oversized, nylon-rope chairs, hanging rope pendant lights and benches of burnished copper with enamelled panels, all magnetic successes in material experimentation, fill the space with a sense of glee. In fact, it was the quest for happiness that inspired Lee to be a designer.
The Seoul-born and -based practitioner and professor originally studied to become a jewellery designer because 'when I was young, I had no girlfriends', he says with a laugh. He thought if he could make jewellery, it would lead to love – and it worked, both personally and professionally. Not only is Lee happily married with two kids, his design practice employs the discipline's techniques into manipulating materials into unique forms.
'The ability to have multiple people in the space allows for really interesting conversations,' adds Fisher, as we lead into the second floor, wherein 14 uniquely stamped pieces in vivid bright colours – some never previously produced – of Donald Judd's metal furniture. 'The furniture was started because Don couldn't find anything he liked in Texas,' explains the artist's son, Flavin Judd, artistic director of his father's foundation. 'His furniture was separate from his art, he was very clear on the distinction. Furniture needs to be functional.' S94 Design has long been Judd's furniture's authorised dealer.
Also on this second floor, Max Lamb has expanded his clever puzzle '6 x 8 Series' with new tables and benches. The Western Red Cedar collection was originally launched in July 2021, and now each chair and bench can be seen in a 'Ghost Poly' version – in a nod to Claes Oldenburg's 'Ghost' series. Also on view are the latest editions of Max Lambs polyurethane-dipped 'Economy' chairs in a cascading colour gradation, from greige to green. 'He was like nope, nope!' says Fisher of Lamb's rejection of conforming to the grand salon's architectural demands.
The gallery as a place of discovery continues on the third floor, where Ernst Gamperl's warped wood vessels (with the tree rings inherent to their composition) seem to bend the light-filled space to match their otherworldly-ness. Evoking ceramics or ancient totems, 'The Houghton Oak Project' pieces are realised through Gamperl's secret wood-working methods.
'You start looking at connections between all of the different artists that we represent,' reflects Fisher of this stellar group. 'What S94 Design is about is experimentation with materials, with forms, and making pieces that are just so truly unique, all which push the boundaries of what design is and what art is.' And they say these walls don't talk…
S94 Design (opens in new tab), 3 E 89th St New York, NY 10128