At home with Rose Uniacke
Unveiling 'Rose Uniacke At Work', her second monograph, the designer invites us into her London home, sharing her passions, inspirations, and how she approaches her own interiors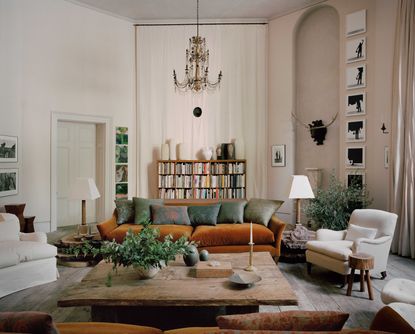 (Image credit: François Halard)
Wallpaper* Newsletter
Receive our daily digest of inspiration, escapism and design stories from around the world direct to your inbox
Thank you for signing up to Wallpaper. You will receive a verification email shortly.
There was a problem. Please refresh the page and try again.
'I believe that interiors matter. They can change the way we think and feel,' writes Rose Uniacke in the foreword of her new monograph, Rose Uniacke At Work, published today (12 September 2023). 'In my design practice, I want to offer my clients a sanctuary: a place that has atmosphere, in which they can think clearly. Where their senses are aroused,' she continues. 'I have always thought that the pervading tone of a room, the feeling, is important.'
Indeed, Uniacke has become one of the world's greatest at creating soothing, inviting interiors that manifest warmth and energy, and crucially are not too precious to be enjoyed and lived in. Whether transforming a residence, a commercial store or a hotel, she has a knack of cultivating something that can feel as historic as it does contemporary, certainly never fussy or pretentious. The equation, she explains, boils down to 'materials, fabrics, objects, furniture, use of space, how the light works, and where the shadows are'.
The designer lives in Warwick Square, an enclave of London's Pimlico neighbourhood where the historic buildings are predominantly Grade II listed. Uniacke undertook an immense and lengthy restoration project of the house which was once the home and studio of artist James Rannie Swinton, among other artists, as well as a school of modern art – well documented in her first book, Rose Uniacke at Home (which rapidly sold out following its publication in 2021).
There is a reassuring sensibility to her interiors: while full of beautiful things, very little is there without some purpose. She would rather enjoy the breathing space than clutter every corner.
To celebrate her new book launch, we meet her at her home to learn more about how it all happens.
Interview: at home with Rose Uniacke
Wallpaper*: Which room in your home are you currently in at the moment? What can you see?
Rose Uniacke: I am sitting in my home office, which is flooded with light this morning. There is a glass ceiling above, built in the manner of a traditional greenhouse with fish-scale panes. It used to be my son's playroom, and he could treat it exactly as he liked. There was spray paint on the floor, on the walls, everywhere! It was a place of fun and creativity for him, and now for me! It's a small, efficient room, with white walls, and everything I need within arm's reach. My desk is a large Rose Uniacke 'Drapers' table, and on it I have an early 'Akari' light, by Isamu Noguchi, as well as an Anglepoise lamp for more focused light. Behind me is a wall of shelves filled with books and samples, and nearby an RU armchair for reading. As you walk into the office there is a shallow old stone sink, and a small standing desk which I often use for sketching. At the farthest end is a door that leads onto a small terrace with several olive trees and a chair. I love music, but I don't listen to it when I am working, as I find it distracting.
W*: Where do you live?
RU: I live in a quiet neighbourhood on a pretty tree-lined square, with beautiful views of a church, and a few minutes' walk from our two shops on the Pimlico Road. My house is a rather eccentric Victorian building that was completed in 1860 as the home of a Scottish portraitist, James Rannie Swinton, and was designed around the north-facing window of his octagonal painting studio. After Swinton left, it became the Grosvenor School of Modern Art in 1925. It has had a long and interesting artistic history.
W*: What's the last thing you bought?
RU: Professionally, I buy furniture all the time. Yesterday I purchased a few pieces for a members' club I am working on in New York. Personally, the last thing I bought was a vintage photograph by Bill Brandt for my husband's birthday.
W*: What's the last phone call you made?
RU: I just got off the phone to my 15-year-old son, who is currently at the butcher buying some lamb for lunch. Shortly he will call me from the vegetable shop!
W*: The last object/item you lost? Will you replace it?
RU: My Apple AirPods, which I lose most weeks!
W*: Where and when do you find you are most productive?
RU: At my desk in my office, under a bit of pressure! I'm most productive in the morning, after I have exercised and had breakfast, but I also like to work in the evening, if everyone is out and the house is quiet.
W*: Favourite place, anywhere in the world? And why?
RU: At home, with family and friends when the house really comes alive.
W*: Ten years from now you'll be...
RU: Relaxing at our cottage near the coast in Dorset, looking out over the sea, with a glass of wine and a delicious lunch. The cottage was owned by my parents, who sold it when I was 14. I always loved it and missed it, so I was thrilled when I managed to buy it back recently, 45 years later, almost unchanged! It's a very beautiful spot.
W*: What can you share with us about your new book?
RU: It's called Rose Uniacke At Work and it follows my first book, Rose Uniacke At Home, which was published in 2021. The book offers an overview of what we do at Rose Uniacke, including a number of projects and the stories around them.
W*: What's your favourite indulgence?
RU: Eating at Sabor – a Spanish restaurant by chef Nieves Barragán – in Heddon Place. The food is fantastic. I ate there last night!
W*: What can you not stop collecting?
RU: I have always loved collecting. Anything from early cutler stools and the provincial furniture of Axel Einar Hjorth to Josef Koudelka photographs, from Roman glass to modern ceramics. I am focused on textiles at the moment and particularly the works of weavers Simone Prouvé and Peter Collingwood, which I will be taking to Frieze Masters in October.
W*: What is your favourite material to work with?
RU: Wood is such a perfect material. At home, it forms the heart of our furniture collection. There is a great deal of wood in all forms. I love looking at it – the natural quality and beauty of the grain. And I love what it can do – wood can be used in so many ways. And I love the warmth it offers and the patina that develops over time. There is an early 20th-century bench by our swimming pool, in a very plain design but with a natural raw timber edge, made of ash. Its form is simple and delicate, looking back at the vernacular of a much earlier time. The pattern of the grain is so vivid and pretty and when I walk past it, I always stop and look.
W*: Who is your dream collaborator?
RU: [Architect] Hans-Jörg Ruch.
W*: What piece of advice would you give for the next generation?
RU: Always explore but find your own voice. Seek advice, but don't always follow it.
Rose Uniacke At Work, by Rose Uniacke, is published by Rizzoli.
£57.50, available from Amazon
Receive our daily digest of inspiration, escapism and design stories from around the world direct to your inbox
Tilly is a British writer, editor and digital consultant based in New York, covering luxury fashion, jewellery, design, culture, art, travel, wellness and more. An alumna of Central Saint Martins, she is Contributing Editor for Wallpaper* and has interviewed a cross section of design legends including Sir David Adjaye, Samuel Ross, Pamela Shamshiri and Piet Oudolf for the magazine.