Formafantasma's Oltre Terra explores our relationship with wool
'Oltre Terra – Why Wool Matters' is an exploration of the fibre's sourcing, production and ethics, at Oslo's National Museum (until 1 October 2023)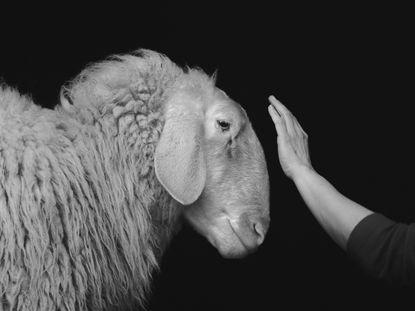 (Image credit: Courtesy Formafantasma and Oslo National Museum)
Wallpaper* Newsletter
Receive our daily digest of inspiration, escapism and design stories from around the world direct to your inbox
Thank you for signing up to Wallpaper. You will receive a verification email shortly.
There was a problem. Please refresh the page and try again.
For a fibre that, somewhat surprisingly, represents only one per cent of the global textile market at this point, wool resides strongly in our cultural and human imagination. 'This is not an exhibition in praise of wool however,' explains Simone Farresin, one half of Italian design duo Formafantasma, as the pair show us around their latest exhibition, Oltre Terra (subtitle: Why Wool Matters), commissioned by Oslo's National Museum (on view until 1 October 2023).
'It's rather a way of looking at the relationship that we have with making and producing wool, and most of all, the ethical implications of dealing with living creatures when doing so.' And it is this multi-disciplinary, multi-layered and, one might say, a multi-species approach where 'it's never only about humans,' that the design studio first adopted so successfully in Cambio (a show dedicated to the timber industry, first hosted at the Serpentine Galleries in 2021), that is being revisited here. Although it is taken one step further, believes Farresin. 'I think there is an attempt here to put into question also exhibition-making and the kind of ideas you can create, even just when pairing materials visually. I think in this sense this exhibition is saying more things.'
Oltre Terra - Why Wool Matters at Oslo National Museum
Just a few of the things 'Oltre Terra' is pairing, and juxtaposing, include historical artefacts (such as the incredible 1700-year-old woollen tunic preserved under a mountain ice patch 200 miles northwest of Oslo and discovered in 2011), photos (of Merino sheep in Australia in the late 19th century, prized for their expansive skin surface and wrinkles and, therefore, extra wool), archive films (showing shepherd dog training sessions in the UK filmed between the 1920s and 1960s) and tools (metal shearing scissors from various periods in Norway). There are also drier exhibits designed to raise questions, such as legal documents showing the EU Product Environmental Footprint proposal to label products according to ecological impact; woollen garments are currently labelled as less sustainable than their synthetic counterparts due to the amount of water needed to wash the wool.
Oltre Terra comes from the etymology of the word transhumance, a combination of the Latin words trans (across) and humus (earth). The historic custom of transhumance, represented here in a film shot by the studio near the Italian/Swiss border, refers to the still-existing movement of livestock from one grazing ground to another according to the seasons and the nutrients or resources available.
This idea of 'crossing grounds' is reflected in the trans-disciplinary and research-led approach of the show, for which the studio collaborated and spoke with shepherds, anthropologists, artists, musicians, designers, evolutionists, designers and farmers, among others, (many of these conversations and ideas are referenced and expanded on in a very lightweight catalogue and dedicated exhibition website). It is no surprise then that the exhibition ranges from the abstract to the practical and concrete; the former amplified by the poetic exhibition captions of philosopher Emanuele Coccia, which have titles like 'It is impossible to know who seduced whom' or 'We never travel alone'; the latter highlighted by a large cream carpet made of wool from 12 different Italian sheep breeds that would usually be discarded due to their 'coarseness'. Produced by carpet manufacturer cc-Tapis, it represents a potential use of what has been long considered waste material.
Dotted around the darkened space are also life-size reproductions of six different sheep breeds, carved and painted by hand with skill by artist Lorenzo Possenti. There's Shrek, the Merino sheep from New Zealand who had lived in the wild for several years and gained fame when discovered in 2004, largely due to a fleece so huge and unyielding that he was practically 'suffocated under the stress of his ever-growing coat,' explains Andrea Trimarchi, the other co-founder of Formafantasma. There's also a Mouflon sheep, one of a few breeds that still sheds its coat naturally every year, and a Dorper sheep, which also moults naturally and is sought after by farmers who are increasingly unable to sell wool due to a lack of local wool washing facilities, economies of scale or regulatory restrictions. They often resort to burning or burying it.
At the heart of the exhibition is a cocooned space showing a film by London-based artist Joanna Piotrowska, which both complements the exhibition and functions as a standalone work of art. Called Tactile Afferents, the term for the nerve receptors in the skin of mammals that respond pleasurably to light touch, it investigates the idea of touch, co-domestication and inter-species intimacy through words and images. We see sheep being touched in various ways, sometimes tenderly, other times far less so. There is a beautifully scripted voiceover too. 'There are wanted and unwanted embraces, those that invite, and those that invade.' In many ways, it feels like a film about consent in the animal kingdom but like the rest of the exhibition its meanings are multiple and layered and Formafantasma are keen not to put words into Piotrowska's mouth.
The idea for Oltre Terra first came about when Hanne Eide, fashion curator at the National museum, asked the studio to do a show around wool, given its 'central role in Norwegian cultural history.' But the exhibition is intentionally not geographically specific. Nominally it focuses on Italy, Norway and Australia (the latter because it is one of three global merino wool centres, alongside South Africa and New Zealand) but the issues raised are global explains Trimarchi. 'We're interested in the geopolitics of an industry and how that intersects with animals.'
The exhibition design is also intended as a critique of the diorama, a museum display medium used in natural history museums in the past to represent a scene from nature, but the scene was static and unquestioning, presenting things as settled and hierarchical. Here the diorama is deconstructed and exploded into eight sections complemented by documents, objects and films. 'No one element is more important than another,' remarks Trimarchi. 'And unlike a diorama there's no glass separating you from the work, you can walk within it and be a part of it.' Accordingly, the exhibition also feels pleasingly open-ended. Colonisation, ecological devastation (often as a result of colonisation) and dysfunctional economics are just some of the globally relevant issues delved into but not opined on. 'We like clarity, but we don't like simplification,' says Farresin. 'Of course, you cannot pretend you don't have a stance but I think it's important that visitors create their own opinions and interpretations.'
Oltre Terra - Why Wool Matters is on view at Oslo's National Museum until 1 October 2023
Brynjulf Bulls plass 3
0250 Oslo
Receive our daily digest of inspiration, escapism and design stories from around the world direct to your inbox