Marimekko taps Sabine Finkenauer for a graphic tableware and textiles collection
Salone del Mobile 2023: Finnish design house Marimekko's latest Artist Series in collaboration with Sabine Finkenauer will be on show in Brera's Galleria II Milione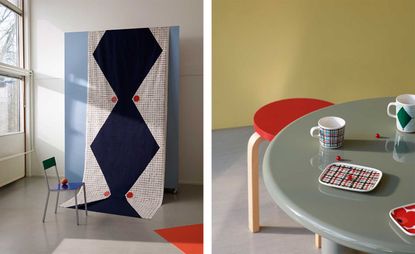 (Image credit: Courtesy Marimekko)
Discover the Wallpaper* guide to Salone del Mobile 2023 and Milan Design Week
'When I first came across Sabine [Finkenauer's] work, it struck me how much similarity [it] shared to Marimekko's visual language,' says the Finnish design brand's creative director Rebekka Bay of the Barcelona-based German artist. 'Her works embody a timeless and perfectly imperfect essence that our prints are known for.'
Marimekko Artist Series: Sabine Finkenauer
Bay is, of course, referring to Finkenauer's geometric style, which is simultaneously abstract yet approachable, as well as playful and precise – a delicate balance. 'Our mission has always been to empower people to be happy as they are and bring joy to their everyday lives through bold prints and colours,' Bay adds.
It makes sense, then, that Marimekko would call on Finkenauer to join as its latest Artist Series partner. Following in the creative footsteps of abstract artists Virginie Hucher and Landon Metz, Finkenauer has been invited to push the boundaries of printmaking and the concept of the canvas in order to turn everyday items into extraordinary objects.
'Over the years [my artistic method] has crystallised into a vocabulary of simple and bold shapes inspired by ornament and geometry,' explains Finkenauer. 'The adaptation of my drawings to objects for domestic use seemed to me something very natural and opportune, since the dialogue with the crafts and the theming of the ornament are part of my artistic interest.'
Finkenauer's series of exclusive artworks (seven in total, made by hand using vividly coloured oil pastels) and the Marimekko home products they now grace, including ceramics and cosy textiles, will be at the centre of Marimekko's week-long installation during Milan Design Week 2023.
Hosted at Galleria II Milione in the Brera Design District, all 16 pieces of the capsule collection will be on display, alongside a conceptual showcase of the creative process itself, featuring sketches and snapshots from the meticulous craftwork undertaken at Marimekko's textile printing factory in Helsinki. Also on display will be the brand's new glassware series, designed by Matti Klenell, set against the bold and bright surfaces (crafted from recycled plastic granules) of Durat.
'For me, knowing that my drawings will shine in many homes, accompanying their residents in their daily lives, fills me with pride and joy,' concludes Finkenauer. But first, they will be in residence in Milan.
Galleria II Milione Via Pietro Maroncelli, 7
marimekko.com
sabinefinkenauer.com