Maison Gainsbourg opens in Paris, filled with Serge Gainsbourg's stories
Maison Gainsbourg is a new museum, library/bookstore, and café/piano bar set in the former Paris home of Serge Gainsbourg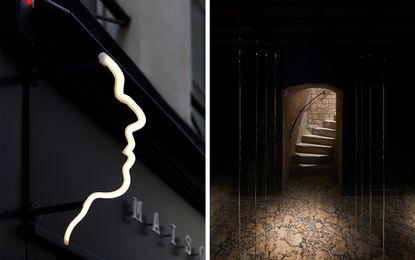 (Image credit: Alexis Raimbault)
Serge Gainsbourg is as beloved by the French as Burgundy and Camembert. To most, he was a pop legend, highly provocative and carelessly debonair. To Charlotte Gainsbourg, he was a dad who cooked dinner and answered his own front door at his home on Rue de Verneuil.
Gainsbourg died in 1991 at age 62, of a heart attack, after a lifetime of partying and chain-smoking unfiltered Gitanes. Afterwards, Charlotte would visit him not at the cemetery but at this home in the 7th arrondissement: it became a place of pilgrimage for her, as it has been over the years for the countless fans who covered the wall out front with graffiti.
Charlotte knew that she wanted to share the house, and her memories, with his public, once she felt ready to do so. This month (September 2023), after more than 30 years, she is finally opening the doors to Maison Gainsbourg, along with those of a new museum, library/bookstore, and café/piano bar (the Gainsbarre) across the street.
Maison Gainsbourg
Visitors enter the house two at a time, their entrances timed so that they are practically alone. They are provided with headsets with a half-hour guided tour, pre-recorded by Charlotte in French or English, accompanied by a soundscape made of archives – the click of a Zippo lighter, the notes of a piano.
Gainsbourg bought the house in 1969, two years before Charlotte was born. She lived here with her dad, Jane Birkin (Charlotte's mother), and Birkin's elder daughter Kate. After Birkin moved out, in 1980, Charlotte came back to visit on weekends, spending time with her father, his subsequent partner, Bambou, and their son, Lucien.
Charlotte's voice – soft, intimate, confiding – leads you from room to room as she shares her memories of growing up here. She talks about taking baths with her mother and half-sister, measuring her growth by the way her head brushed the bottom of the bathroom chandelier, playing Atari video games against her father (she awoke each morning to find that the night before he had set a new record for her to break).
Measuring 130 sq m, the house feels smaller than it looks from the street. A black fabric covers the walls and low ceilings throughout – Gainsbourg noted that white walls were meant for psychiatric hospitals. Everything is still in its place, exactly as it was when the singer died.
On the ground floor, the salon is cluttered with furniture, photos, gold records, artworks, the Steinway where he composed. There are cigarette butts in ashtrays, and even an indent in the place where he sat on the living room sofa. This is the room where Gainsbourg hosted guests, often police officers and taxi drivers invited in for a nightcap. Fascinated by police, he collected their badges, which are laid out on a table.
The kitchen still contains the same packaged food left behind years ago, in a transparent refrigerator. The children's bedroom was behind the kitchen; Charlotte remembers hearing the voices of her parents before they went out to nightclubs, coming home just in time to get her ready for school.
Upstairs, a small closet contains Gainsbourg's carefully edited wardrobe – jeans, a few shirts and jackets, neckties, and several pairs of the white Repettos he always wore without socks. There's a little room with antique dolls where Charlotte was meant to play, though she preferred flipping through her dad's volumes of medical pathology near his leather chair in his office. At the end of a corridor hung with photos is the master bedroom, with a furry black blanket on a low bed where father and daughter used to watch American movies together.
Across the street, the museum, boutique, and café-piano bar are designed by Jacques Garcia to mirror the house's visual codes. The permanent exhibition is set up as a corridor, with a carpet in the same pattern of poppies and waterlilies as in the house. On one wall, eight videos made up of archives recount Gainsbourg's life in his own words, starting with his birth in Paris as Lucien Ginsburg, to Russian Jewish emigrants. He recalls that during the war, he asked his mother to sew on his yellow star neatly. He talks about his early days playing in piano bars, his affair with Brigitte Bardot, receiving death threats after recording a reggae version of La Marseillaise, writing music for Catherine Deneuve and Vanessa Paradis.
Facing the videos are some 450 artefacts from the collection – including photos, handwritten lyrics, an original manuscript of La Marseillaise by Rouget de Lisle, and Claude Lalanne's sculpture of a man with a cabbage head that inspired a song of that name. A space in the basement will host temporary exhibitions, starting with one on 'Je t'aime...moi non plus', the song Gainsbourg recorded with Birkin in 1968, a few months after they met, and which scandalised the planet (and assured their fame) with its erotic breathing and orgasmic moaning.
The walls and ceiling of the café/bar are also covered with black fabric. Anatole Maggiar, director of Content and Programming, says, 'It took us six months to find the right fabric, a felt from officers' jackets, which absorbs light in a certain way.' A large window behind the bar resembles the bow window in the house, and faces a mirrored wall like that behind Gainsbourg's bed. Barstools are inspired by his piano bench, while lamps by Viabizzuno reference the Gino Sarfati lamps on either side of his bed. Even the signage, by the agency Yorgo&Co, uses the Pica 72 font from Gainsbourg's typewriter.
Visitors who want to go home with their own memory of Gainsbourg can buy a replica of the navy jacket with tennis stripes that Birkin urged him to buy on Portobello Road in 1973, now produced in a limited edition by Saint Laurent. Alternatively, they can pick up a tin of Flavigny violet-flavoured mints, like those that have been sitting untouched next to Gainsbourg's bed for more than 30 years.
Maison Gainsbourg
5bis, rue de Verneuil
Receive our daily digest of inspiration, escapism and design stories from around the world direct to your inbox