Karimoku Commons Kyoto offers an intimate, home-like experience
Karimoku Furniture Inc opens its first Karimoku Commons location in Kyoto, in a former wooden machiya townhouse that offers an intimate experience of the brand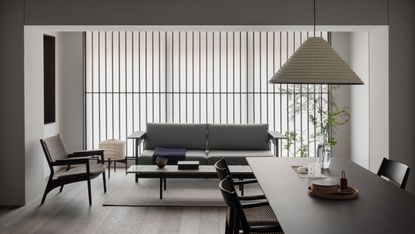 (Image credit: Tomooki Kengaku)
It's a classic mesh of old and new Kyoto. Picture a tall, narrow façade of clean-lined vertical dark oak slats, minimalist eaves overhanging the street, a simple linen noren curtain and a crafted sweep of washed gravel floor flowing into the warmly lit interior.
This is the scene that greets visitors arriving at Karimoku Commons Kyoto – the first Kyoto flagship for Karimoku Furniture Inc, the acclaimed Japanese wood furniture manufacturer (also known for its Karimoku Case Study series of spaces, including the recent Hiroo Residence in Tokyo and a residential project by Norman Foster in Martha's Vineyard).
Karimoku Commons Kyoto:
The new building, by Keiji Ashizawa Design, blends in quietly to Anekoji Dori, a narrow street in the central Nakagyo-ku district, where it sits on the location of a former wooden machiya, or townhouse.
Designed to evoke the intimate atmosphere of a home, the new Karimoku Commons Kyoto space filters the traditional features of a machiya through a clean-lined contemporary design prism. This is reflected in the minimalist lines of its dark wood latticed façade, narrow frontage, deep layout and warm interior palette of in-between colours.
'Although the building was newly constructed, we wished to create a space with the atmosphere of a Kyoto machiya, different from the Karimoku Commons space in Tokyo,' Keiji Ashizawa – who also designed its sister space in Tokyo, which opened in 2021 – tells Wallpaper*.
The new space aims to provide the opportunity for visitors to intimately experience the creations of Karimoku – freely trying out its different furniture brands and exploring at first hand the crossover of design and function, while inhaling the natural scents and touching the organic grains of the woods.
Spanning 150 sq m across three levels, the hybrid space not only showcases an immersive range of Karimoku products plus its high-end brands – Karimoku New Standard, MAS, Ishinomaki Laboratory – it also serves as an office and Kansai hub for collaborators and partners.
'The Karimoku Commons space is basically a showroom for displaying furniture,' explains Ashizawa. 'But it also functions as Karimoku Furniture's office in Kyoto and as a space that can be used by their clients and collaborators. It is also a space for collaboration with artisans associated with the Kansai area.'
The first floor has a light, calm atmosphere. At the entrance, a light-brown split curtain (dyed naturally with yashabushi alder trees) leads into a space with concrete flooring and an array of furniture, from tables to sofas and bookstores, mainly in pure oak, plus the triangular form of a paper pendant lamp by Norm Architects, Karimoku's creative director.
A floating staircase leads to the second floor, where the atmosphere is more intimate, reflected in the deeper tones of furniture in shades of smoked oak, inspired by the interiors of traditional Kyoto machiya and traditional Danish smoked wood.
The top floor showcases a library space, with furniture exhibited in wooden box displays along one wall, casting a spotlight on the technical precision and specialist craftsmanship that underpins Karimoku's creations.
The sensory experience is layered further by an organic scattering of contemporary crafts, artworks and antiques, smoothly styled by Yumi Nakata, who will continue to update the space. Inspired by the idea of finding beauty in darkness – a theme that neatly echoes the play of light and shadows in wooden machiya – Nakata has created a flowing composite of pieces that soften the boundaries between home and showroom.
Highlights include pieces from Nota & Design, an acclaimed Shiga-based design studio; the raw unglazed forms crafted by Kyu Tani; and the natural lines of Haruyuki Matsumoto's pieces, plus the abstract beauty of dried flowers and plants by Hananoen.
Other items include modern bamboo crafts by fifth-generation Kyoto artisans Kohchosai Kosuga in collaboration with Copenhagen-based OEO Studio, plus finds from the antique market at Kyoto's Toji Temple, including wooden wagashi sweet-making moulds. Visitors can also inhale a special woody citrus scent by Megumi Fukatsu and enjoy a bespoke soundtrack by Japanese music network Music Share.
For Ashizawa, one of the biggest spatial challenges was balancing the narrow, deep machiya-style layout with showcasing the beauty of Karimoku's furniture.
'Originally, the space was not designed to showcase things well, and the narrow frontage made it difficult to lay out the furniture,' he explains. 'The challenge was in figuring out ways to incorporate the light and to think about the relationship with the street. We were conscious of creating a quiet space where only light and human presence can be felt.'
685-02 Osaka Zaimoku-cho, Nakagyo-ku, Kyoto
commons.karimoku.com (opens in new tab)