Emerging stars and established makers unite in show for London Design Festival
Curated by Jan Hendzel, '11:11' at Staffordshire St Gallery in Peckham, south London, features a diverse breadth of design, from ceramics and textiles to woodworking and jewellery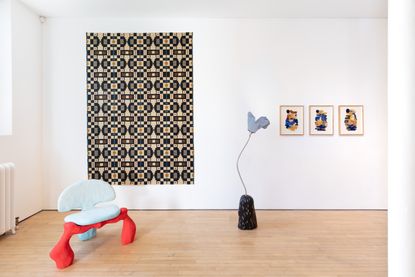 (Image credit: B J Deakin Photography))
Wallpaper* Newsletter
Receive our daily digest of inspiration, escapism and design stories from around the world direct to your inbox
Thank you for signing up to Wallpaper. You will receive a verification email shortly.
There was a problem. Please refresh the page and try again.
For London Design Festival 2023 (16–24 September), Jan Hendzel Studio has brought together 22 designers – half of them established, the other half emerging – in an exhibition, '11:11', at Staffordshire St gallery in Peckham, south London.
Hendzel, a furniture designer known for working with reclaimed and locally sourced timber, chose 11 celebrated makers to feature in the show, from Simone Brewster to Martino Gamper. He then asked each of them to select an up-and-coming, south London-based designer to exhibit alongside, drawn from an open call.
'Our emphasis was very much on creating a platform to support the grassroots and emerging creators of Southwark,' says Hendzel. The resulting show forms part of the Southwark Design District at LDF.
Jan Hendzel: 'We want to celebrate what's great about design'
The exhibition presents a diverse breadth of design, from ceramics and textiles to woodworking and jewellery. As well as reflecting the 11 established and 11 emerging designers, the exhibition title references numerological beliefs, where the set of numbers, 11:11, is considered highly special, and rooted in synchronicity.
'We wanted to have a showcase of incredible designers who are pushing what it means to work in a variety of materials that blend the disciplines of design and craft, to inspire a new generation of rising designers,' says Hendzel. 'Ultimately we want to celebrate what's great about design – and for us that is putting the emerging stars in with the established makers.'
Grain + Knot, a woodworking studio based in south London founded by Sophie Sellu, is one of those established makers. The studio is exhibiting a selection of sculptural and functional objects at '11:11', made from storm-fallen and reclaimed timber.
Sellu selected Jacob Marks from the open call, a designer-maker from Manchester whose studio is based in Peckham. Marks graduated from a BA in product and furniture design at Kingston University last year, and his practice centres on material experimentation.
Sellu was intrigued by Marks' use of pine resin – a yellow, viscous substance that is secreted by pine trees in order to protect their bark. 'It's a really interesting way to use parts of a tree that would otherwise not be used in woodworking,' she says.
Marks is exhibiting 'Pina Lamp I' and 'Pina Lamp II', inventive lights made by dipping a paper form into a vat of molten pine resin, before setting it around a timber base. Marks praises pine resin's renewable, carbon-negative and biodegradable attributes. 'Its vibrant, amber tone also led me to think lighting could be a particularly effective application,' he says.
A Rum Fellow, the London-based design studio dedicated to artisan textiles, is exhibiting a boldly patterned flatweave rug, handwoven in India ('Periscope' rug). The studio selected Mariangel Talamas Leal from the open call, who recently graduated with an MA in furniture design from Central Saint Martins.
Leal's sculptural furniture is imbued with emotion and identity as well as packing a delightful visual punch. 'We were instantly drawn to the rawness of Mariangel's work,' says Dylan O'Shea, director and co-founder at A Rum Fellow. 'Her pieces have at once a familiar organic nature and an otherworldly, almost alien quality.'
Leal's pieces on show – 'Lupita' lounge chair and 'Carmen' side table – are crafted from plywood, stainless steel mesh, plaster and Modroc bandages, painted in bright block colours. 'At the centre of this collection is my personal experience and emotions that come from being of multiple cultural identities,' she says.
'I am Mexican-Palestinian and was raised in the US. Each piece of furniture in the collection is made of two different parts, with each part needing the other to fully embody its true identity. This emphasises the concept of two separate identities coming together to create a stable and productive third.' She named her pieces after women in her family, 'as an homage to my cultures and appreciation of my roots'.
'11:11' is on show at Staffordshire St Gallery, 15 to 24 September 2023
Staffordshire St Gallery
49 Staffordshire Street
SE15 5TJ
Receive our daily digest of inspiration, escapism and design stories from around the world direct to your inbox