Google Design Studio celebrates the relationship between water and technology
At Milan Design Week 2023, 'Google Shaped By Water' is an immersive and intimate sensorial installation by Lachlan Turczan that puts water, light and human beings in resonance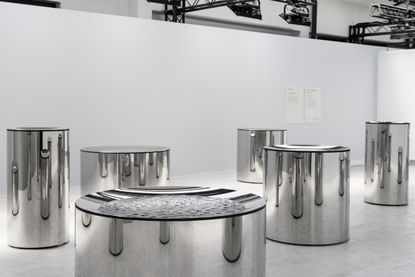 (Image credit: Courtesy Google)
To celebrate water, a powerful muse for its latest hardware design, Google Design Studio presents an immersive and intimate sensorial installation called 'Shaped by Water'. It's a strong return to Salone del Mobile, after a 2019 installation based on the concepts of neuroaesthetics.
Taking place in the vast Garage 21 space, the exhibition is co-created by Google's vice president of Hardware Design, Ivy Ross, and the water, light, and sound artist Lachlan Turczan. 'We take water a little bit for granted,' says Ross. 'Many of us now think about clean water, or sustainable water, but we really don't think at his properties.'
'Google Shaped by Water' at Milan Design Week 2023
The first seed of the project was the use of technology in conjunction with natural phenomena, explains Turczan, who has been developing his water-projection system over the past decade: 'It all started with light,' he says. 'As I wanted to work with light in a tangible way. Sound moves water, and water moves light, allowing you to see and feel vibrations in a physical way.'
The first artwork, Sympathetic Resonance, involves 11 shimmering cylindric bowls, their surface filled with water, scattered throughout the room. They are designed to hum in resonance with the visitor's proximity, and looking into the jingling metal allows not only interaction with the water, but also encourages a hypnotic relationship with the dynamic waves. As the public gathers and moves around the bowls, their presence is mirrored by wave patterns, like an empathic natural orchestra of reflections: 'I think sound is a sculptural tool and it works in a holistic sense as it affects everything at once,' explains Turczan. Creating the optical system and fabricating the bowls with perfect mirrored polish had been challenging, because to achieve this result, he underlines, all these aspects needed to be perfect.
In the second, dark room, guests are asked to sit back on vast circular couches, and relax as custom-choreographed music is used to create real-time wave patterns into small basins. The waves are reflected onto large discs overhead, a planetarium-like screen displaying ever-shifting imagery like a psychedelic yet relaxing natural movie. 'The organic display is similar to what we experience while cloud-gazing or when we stare into a fire,' says Turczan. The art project relies on cymatics, the science of making sounds visible. In this case music become visual, with the water creating the pattern on the water.
The last room presents the direct connection between the design of Google's hardware portfolio and newest products such as the Pixel Watch, and water close-up. 'We need technology that pushes us to be more creative, more imaginative,' says Ross. 'We are all looking at ways to alive our sensory system with the help of the nature. It's what we are craving for, as a society.'
'Google Shaped by Water' is on view until 23 April 2023
Garage 21
Via Archimede, 26
Milano