Giorgetti Spiga – The Place opens in Milan's fashion quarter
The new Giorgetti Spiga – The Place transforms a 17th-century palazzo in Milan, showcasing the furniture company's full offering over four floors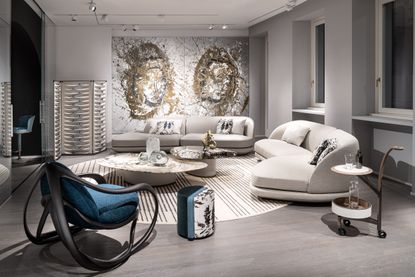 (Image credit: Courtesy Giorgetti)
In the heart of Milan's bustling quadrilateral, where high-end fashion and art galleries converge, a new world of wonder has emerged. Giorgetti, with its 125-year history of innovation and design, has unveiled a treasure trove at the stylish Via della Spiga 31, fittingly named The Place.
Palazzo Giorgetti, a 17th-century architectural masterpiece with a 19th-century façade, has been transformed into a haven of bespoke beauty, drawing visitors in to explore the brand's unparalleled world.
Giorgetti Spiga – The Place
The new space reflects the company's values, with each detail crafted to create an ambience that exudes sophistication and elegance. The refined finishes and iconic pieces punctuate the rooms, while sculptures and works of art from Oblong Contemporary Art Gallery and Brun Fine Art, together with books selected by art director Giancarlo Bosio, impart an air of sophistication to the space. This location serves as the perfect backdrop for Giorgetti's bespoke projects.
Designed to be a meeting point, Giorgetta Spiga – The Place has four floors, displaying the brand's commitment to quality, care, and uniqueness. Visitors will feel transported to an enchanted domestic setting as they stroll through each floor. The street-facing ground floor, with its expansive windows and high ceilings, showcases the latest collections.
Visitors are invited to explore Giorgetti's bespoke projects, created in collaboration with Battaglia, a company that Giorgetti acquired in 2018. The first and second floors boast parquet floors that showcase the firm's craftsmanship and attention to detail, and host pieces such as the 'Vesper' sofa by Roberto Lazzeroni and the 'Miyabi' walk-in wardrobe.
On the third floor, visitors can step into the ideal Giorgetti office, complete with the 'Urban' sofa by Carlo Colombo and 'Aura' armchairs by Umberto Asnago, as well as a host of other objects. On the same floor is a terrace, a place for alternative business meetings.
A stunning indoor marble staircase, featuring slices of six varieties of marble, leads to the fourth floor, an attic reserved for offices, where Giorgetti's creativity is brought to life.
Giorgetti Spiga – The Place is a luxurious wonderland, beckoning visitors to discover the beauty and bespoke experience that the brand has to offer. With its strategic and prestigious location and meticulous attention to detail, the space solidifies Giorgetti's position as one of the world's high-end furniture brands.
Giorgetti Spiga - The Place
Via della Spiga 31
Milan
Maria Cristina Didero is an independent design curator, consultant and author, who has contributed to many publications over the years; she is currently Milan editor of Wallpaper* . Didero has consulted for companies such as Vitra, Fritz Hansen, Lexus, Fendi, Louis Vuitton, Valextra among others. Based in Milan, she works internationally, curating exhibitions for institutions: some of her most recent projects include Nendo: The Space in Between and The Conversation Show at the Holon Design Museum, Israel; FUN HOUSE by Snarkitecture at National Building Museum, Washington D.C.; SuperDesign a project about Italian radical design, NY; Vegan Design, or the Art of Reduction by Erez Nevi and The Fish and The Crowd by Carlo Massoud, Milan. In April 2022 she curated a Mathieu Lehanneur exhibition at the Triennale in Milan called The Inventory of Life, while in July she debuted a project at the MK&G in Hamburg titled Ask Me if I Believe in the Future, alongside a series of ongoing collaborations. She was appointed 2022 Curatorial Director of Design Miami/. She is currently preparing two projects for Milan Design Week 2023.