Dennis Freedman's collection at R & Company is a trip inside the mind of a design collector
'The Dennis Freedman Collection', curated by Evan Snyderman and James Zemaitis, is on view at R & Company's White Street location in New York, spanning from early 20th-century modernism to 21st-century contemporary design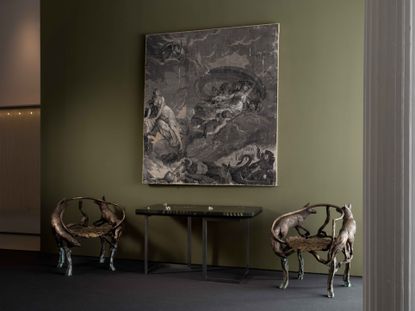 (Image credit: Joe Kramm)
Whatever spark first ignited collector Dennis Freedman's love for design still burns fiercely in him today. When talking about the stories behind each of his pieces, he clutches his chest in adoration of the works, moved by feelings of 'the artistry' and 'the beauty' of them, of how 'extraordinary' and 'brilliant' each acquisition was and is.
The Dennis Freedman Collection on view at R & Company
'The Dennis Freedman Collection', an exhibition curated by Evan Snyderman, co-founder and principal of R & Company, and James Zemaitis, the gallery's director of museum relations, is now open at their White Street location – and it is worthy of superlatives. The selection of works from Freedman's prolific trove, which is overflowing with invaluable historical merits, is not only about design. The curation is also about Freedman himself, realising a show that reflects the endlessly curious person whose uncontaminated creative vision bears the fruits of decades of collecting, rooted purely in intuition and infatuation versus market sway, and supplemented with the academic inclination of an unquenchable autodidact.
'What we did with this exhibition was that we tried to get inside Dennis's head,' says Snyderman. 'Because what we're talking about [is] this journey of his life around the world collecting objects, not with a particular purpose for them, not because he had a place for them or because he wanted to decorate – it was only because he knew "this piece" had a story to tell.' Snyderman considers Freedman's modus operandi – fully committing to a purchase the moment intuition strikes – as 'the bravest thing' a collector can do.
'I am not exaggerating,' Freedman adds, 'most decisions are made in one or two minutes.' His whim belies its knowledge, though. Throughout the entire collection, there's a throughline of classicism, and a grounded interest in how idiosyncratic designs by post-war makers, ones prone to conceptual complexity and artistry, are tethered to classical or historic methodologies, styles, and intellects.
The pieces on view span pioneering works of early 20th-century modernism to 21st-century contemporary design, much of which is displayed for the first time in decades – including lamps that have never been illuminated since their original purchase, displayed now in their full glory and in fuller conversation with their collection peers.
'It's like a play,' Snyderman says, of how the pieces are curated with one another into a series of vignettes that divide the gallery space. 'They're all stories. The story of objects, the history of objects.' Bolstering this fidelity to historical context, each work is displayed alongside a description of its provenance. This offers every piece the respect of its own circumstances, identifying its full life from the maker's hands to its current ownership, and every touch point, collection, representation, or exhibition it's encountered in between.
But, as Freedman reminds us, not only is it about the stories and the narrative arc of the pieces, 'it's also a diary of 20, 25 years'. He nods to Zemaitis' essay prelude to the expansive exhibition catalogue, in which he recounts the 'Grand Tour of Europe' that young aristocratic English and Frenchmen were sent on during the 1600s through 1800s, in an attempt at cultivating their 'taste'. 'My job was to travel all over the world,' Freedman says. 'My career took me on the grand tour.'
As founding creative director of W Magazine and then creative director of Barneys, his deep roots in fashion never mired him in it. He saw his editorial and commercial responsibility as about 'more than clothes', and it was from this mindset that he began collecting works of design. Not being married to fashion set him up to welcome other art forms, and welcome them with a unique negligence of the market implications or stylistic boundaries that may typically have been within a collector's realm of considerations. Originally enamoured of Italian radical design, he never stuck to its confines. Alongside these works, his collection spans French, Dutch, Scandinavian, Brazilian, Japanese, and British masterworks, and it continues to grow to this day.
What began as a conversation four years ago between Freedman and Snyderman, then a fledgling idea of how to honour a vast suite of treasures, has now become this panoramic exhibition that Freedman cites as 'a dream' to witness brought to life.
'The only reason this could happen is because of Evan, Zesty and James,' he says of his partnership with the gallery. 'They're some of the only dealers who understand the history and the throughline.' Snyderman is equally as gracious, acknowledging his reverence of Freedman as the one who takes obscure, back-room, bizarre, too-young, too-old, unseen, unknown work in the first place, and 'has the guts to buy it'.
'The Dennis Freedman Collection' will be on view at R & Company until 11 August 2023
R & Company
64 White St
New York, NY 10013