Cristina Celestino takes over a tennis club for Milan Design Week
Clay Court Club is Cristina Celestino's takeover of the historical Bonacossa Tennis Court, revisited with a contemporary design approach for Milan Design Week 2023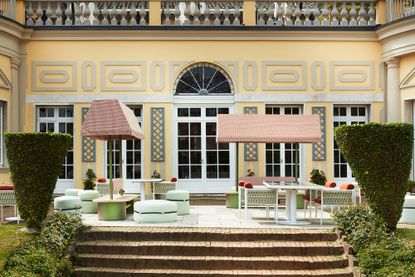 (Image credit: De Pasquale Maffini)
Architect and designer Cristina Celestino will take over one of Milan's most fascinating locations and is inviting visitors to play along during Milan Design Week 2023. From 14 to 23 April 2023, Celestino will bring to life her Clay Court Club, a reimagining of the Giovanni Muzio-designed Tennis Club Milano Bonacossa.
'I started this personal project some years ago with the Tram Corallo,' Celestino tells Wallpaper*, referring to a 2018 project that saw her transform the interior of a vintage tram circling the city. She followed it up with Caffè Concerto Cucchi in 2019, a playful restyling of the historic Cinque Vie district café. 'I'm always looking for these hidden gems,' she says.
Cristina Celestino tennis takeover: come play at Bonacossa Tennis Club
Celestino's temporary intervention in the nearly century-old institution encompasses all new furniture, flooring and textiles, and can be divided into three separate zones, spanning interior and exterior spaces: a grand salon in the club's common area; an outdoor installation inhabiting some of the courts; and a dining room, which will be handed over to French chef Marine Hervouet for a pop-up hosted by itinerate culinary experience We Are Ona.
Giovanni Muzio, who designed the Tennis Club Milano Bonacossa in the 1920s, is best known as the mastermind behind Milan's Triennale Design Museum and the infamous residential complex Ca Brutta, which translates to ugly house, an architectural oddity that was reviled at the time of its completion but has since come to be appreciated for it eclectic mix of modernist and classical influences.
Unlike Ca Brutta, however, the tennis club has avoided such debate and has largely flown under the radar, familiar mostly to the Simonetta-neighbourhood residents who spar on its vintage courts or bask by its pool in warmer months. Celestino points to the architect's fascination with Metaphysical painters in terms of what drew her to Muzio's work, like the mismatched window pediments and asymmetrical columns decorating the tennis club's façade, which play with perspective in the same way a painting by de Chirico would.
Working alongside furniture and materials brands like Besana carpets, Billiani, and Dedar, Celestino's makeover will dialogue with Muzio's ornate existing architecture. 'We started with the idea of a strong colour for the flooring,' she explains, 'so I chose a carpet with an inlay of different colours that reflects the terracotta colour of the court.'
The furniture on display was also custom-made for the event. It includes, for instance, a wood-frame armchair produced in collaboration with Billiani, which has been upholstered in a textured Dedar fabric that resembles the fluffy grain of terrycloth tennis whites, and features a woven armrest that recalls the 'the geometry and the grid of the net', says Celestino.
Clay Court Club is open from 14 to 23 April 2023, 10am to 8pm
Tennis Club Milano Bonacossa
Via G. Arimondi 15
Milano
Laura May Todd is a Canadian-born, Milan-based journalist covering design, architecture and style. In addition to the Italian dispatches she writes for Wallpaper*, she regularly contributes to a range of international publications, including T: The New York Times Style Magazine, Architectural Digest, Elle Decor, Azure and Sight Unseen. Prior to her work as a journalist, she was assistant editor at London-based publishing house Phaidon Press.