Alessi Museum celebrates 25 years of design stories
Alessi Museum highlights, from iconic to forgotten pieces, are now part of an exhibition at the company's Milan flagship, exploring 25 years of design stories (until 30 September 2023)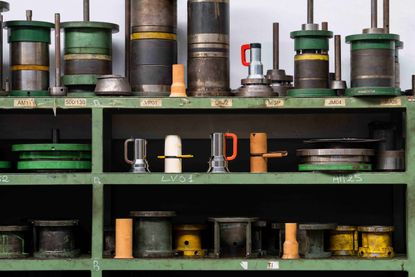 (Image credit: Delfino Sisto Legnani)
Wallpaper* Newsletter
Receive our daily digest of inspiration, escapism and design stories from around the world direct to your inbox
Thank you for signing up to Wallpaper. You will receive a verification email shortly.
There was a problem. Please refresh the page and try again.
The Alessi Museum marks its 25th anniversary with a special exhibition that retraces not only the most remarkable moments in the company's history, but also forgotten and unknown stories.
The museum, which opened in 1998 and was designed by Alessandro Mendini, is located in Omegna, on Lake Orta, Italy, where the brand was founded. The new installation celebrating its historic collection, which includes over 25,000 pieces ranging from prototypes to abandoned ideas, is on display in Milan at the Alessi flagship store (until 30 September 2023). 'This is the first time we've held an in-store exhibition,' says Francesca Appiani, the museum's curator, who also led the new installation. 'We wanted to explain to the customers, visitors, or a passer-by what's behind our pieces. It's a show meant to represent Alessi's uniqueness.'
Alessi Museum: 25 years of design stories
Through 25 stories from the museum's collections, Alessi pays tribute to its 102-year history, explains Alberto Alessi, grandson of the company founder: 'Alessi is well-known for her kitchen accessories. However, since 1921 and for the following 60 years, it has produced for other areas of the house.'
Marking the change is an espresso coffee maker, the '9090', designed by Richard Sapper and in production since 1979. 'This coffee maker is especially significant in our history because it was one of [our] first Compasso d'Oro award [wins], and the first Alessi object to be displayed at New York's MoMA.' Next to it is a prototype of a coffee machine without a gasket: 'We worked on it for a long time, without success.'
In some cases, it's the successful flops that matter, as Appiani explains. 'Take, for example, Philippe Starck's "Hot Bertaa" kettle. It abruptly went out of production because of a functional problem with the pouring machine, yet it is widely published and sought after by museums and collectors.'
As a visitor, whether you enter the shop or peek into the windows, you can get a taste of recognisable icons, secret ideas that have never emerged from the Lake Orta headquarters, but also absolute surprises, such as a saxophone from 1988: 'The "Alessofono" represents the apex of Alessi craftsmanship. Mendini created the saxophone with the assistance of important professionals,' says Alberto Alessi.
The "Alessofono" project began in Quarna Sotto, a small town well known for its production of wind musical instruments, not far from the Alessi headquarters. Their work was impacted by large-scale industrial production: 'The town doctor, who knew my father, approached him for assistance. As a result, an extraordinarily ergonomic instrument was born, fully handmade and produced on demand. One of the most expensive pieces in the catalogue,' says Alessi.
There is also space for the unexpected, like Enzo Mari's 'Ecolo' plastic vases, from 1995: 'I am quite fond of this,' Alessi begins. 'Mari wanted to turn detergent bottles into a line of flower vases. We attempted for a year before settling on a compromise: a limited and numbered edition handcrafted by him, along with an instruction manual, a very refined product that we kept in the catalogue for many years.'
Alessi, he concludes, places itself in the long tradition of art applied to small home objects. 'A very long history, dating back to the invention of the cup, or plate. This explains why we spend so much time working on expressive languages and design forms. And here lies the significance of our efforts in gathering, collecting, and displaying our work'.
'25 Stories, the 25th anniversary of Alessi Museum' is on view at the Alessi Milan Flagship, Via Manzoni 14, until 30 September 2023
Receive our daily digest of inspiration, escapism and design stories from around the world direct to your inbox