Alcova 2023 is an incubator of ideas
Alcova 2023 sees the independent design platform bring its radical mix to Milan's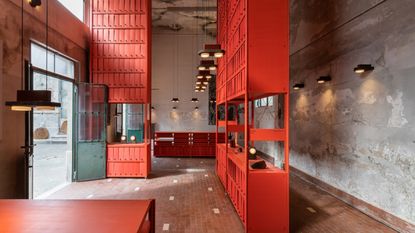 (Image credit: Agnese Bedini, Piercarlo Quecchia - DSL Studio)
'In a phase of transition' is how Valentina Ciuffi, curator and co-founder of contemporary design platform Alcova, describes the new location for 2023. Just like the showcase itself, the venue – Ex-Macello di Porta Vittoria, a former abattoir, earmarked to become social housing and a museum in its next life – is an experimental hub, a space in-between.
Alcova 2023's new location reflects the state of design
Built between 1912 and 1914, the site is usually closed to the public, and this was alluring to Ciuffi, along with co-founder Joseph Grima, for the fifth edition of Alcova. But, why move from Centro Ospedaliero Militare di Baggio? 'To avoid gentrification and not become a district of Salone,' Ciuffi says.
She intends the contents of Alcova to always have a dialogue with its location. 'We're looking to not create a stable position,' says Ciuffi, who feels this is very much the state of the design industry itself.
Materiality, meaning and moments of Alcova 2023
This year's Alcova includes over 70 projects, and opens with an installation about materiality – 'It's a clear way of bringing up the topic of what design should be right now,' Ciuffi explains. Presented by Finnish platform Habitarematerials, and curated by Nemo Architects, this is an open-air materials library where visitors can touch and interact with samples that educate and inspire before exploring the rest of the exhibition.
The theme of materiality unfolds throughout this year's edition. California-based design studio Prowl seeks to create new solutions for people and the plane, such as its biodegradable stacking chair made from hemp. Working with M4 Factory, Prowl investigates the life cycle of the project within an installation titled Expect Death.
Further experiments are found in the work of Wang Yichu, who is creating chairs from dryer exhaust tubes, and Mexico City-based design studio Davidpompa, which presents lighting sculptures created from minerals, glass and volcanic rock. Australian designer Tom Feredey has teamed up with London-based studio Agglomerati for 'Cor' (meaning 'heart' in Latin) on a set of organic, cove-shaped monolithic lighting sculptures made in Roman travertine.
Acting as a laboratory of ideas, Alcova includes a talks programme to expand on the ideas on display. Find daily materiality discussions by Habitarematerials and a series around big questions facing design and technology today by Map Project Office.
If you're already feeling the fatigue of Milan Design Week, Croatian designer Laura Mrkša is thinking about our wellbeing and the concept of slow design. Her show 'I Would Prefer Not To' is a place for naps and procrastination. Fancy going to the beach? Montpellier-based studio Heim + Viladrich with Rotterdam studios Laurids Gallée and Forever Studio are investigating the oddities of European seasides.
Our connection to nature and the Earth is explored in American designer Kate Greenberg's first solo show. A multisensory experience is created within the basement of Alcova with light, seating and sound – relating to how we keep time.
Find another sensory experience in 'Expériences Immobiles', an olfactory installation designed by DWA to mimic industrial buildings in northern France and encapsulating glass vessels offering the scents of perfume brand Les Eaux Primordiales.
Drawing on cultural heritage is emerging talent Kiki Goti, whose neo-futuristic dressing spaces are influenced by 'preconceived notions of Greek aesthetics', while the handcrafted pieces of Berlin-based design studio Ae Office shine a light on how people of the Jeju island of South Korea have coexisted with volcanic materials.
When it's time for a break, grab a spritz at one of the two bars designed by Space Caviar while enjoying Objects of Common Interest's giant inflatable water fountain.
The opportunity to discover the next generation of designers is high on the agenda for Ciuffi and Grima. A new section, Alcova Project Space, is an example of that; it opens as a curated exhibition and evolving concept store, the first time Alcova has had an e-commerce space. Designers on display include London-based Hannah Lim, Helsinki-based Didi NG Wing Yin and artist Stef Fusani, and if you don't get the purchase this time, stay tuned for more pop-up shops across Milan, and potentially an overseas iteration.

Alcova 2023 will be on show from 17 to 23 April 2023 at Ex-Macello di Porta Vittoria, Via Molise 62, 20137 Milan, Italy.