Alessi launches the Poêle Collection of metal furniture by Philippe Starck
From a playful drawing to a full collection: Alessi announces the Poêle Collection, a new collaboration with Philippe Starck inspired by a kitchen utensil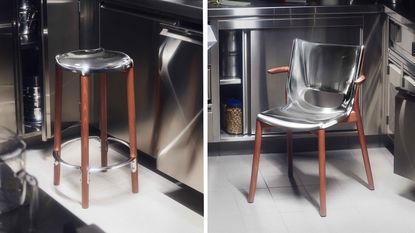 (Image credit: Pietro Cocco)
Alessi celebrates the official launch of the Poêle Collection by Starck, at the boulevard Raspail flagship store. Fresh from its debut at Salone del Mobile, shown at the historical Palazzo Borromeo d'Adda in Milan as part of Alessi's Ars Metallica initiative, the Poêle Collection is now available across the French and European markets.
Alessi Poêle Collection by Starck
What started as a serious joke - a simple drawing of a pan with legs - the Poêle Collection turned into the first furniture design created for Alessi by long-term collaborator, creator Philippe Starck, and includes a chair, an armchair, a coat hanger and a stool in two different sizes.
The muse for this collection was an unlikely collaborator, with "Poêle" being French for "pan"; the designs are reflected on the humble, utilitarian steel frying pan. A sturdy kitchen utensil found in almost every kitchen, this reference pays a perfect homage to Alessi's metalwork and is a nod to the company's origins as a metal workshop founded in 1921. They have harmonised traditional techniques with modernised efficiency, by using the classic cold-press metal technology from the 1950s to create the collection.
Having collaborated with Philippe Starck for 30 years, president of Alessi, Alberto Alessi, says: 'I have been trying to make a chair with Philippe Starck for around 20 years now and, finally, we did it. I asked him if it was possible to design a chair that is manufactured like a frying pan [...]. As is always the case with Starck, it started with a subversion.'
Starck, known for his philosophy when it comes to creating - to improve the lives of as many people as possible, no matter what form it takes - began the collection with a simple drawing. He observed; 'The Poêle Chair started as a serious joke, with a sketch of a pan with legs and the great idea of adapting an existing high-technology to different purposes.[...] The Poêle Chair elegantly incarnates the most beautiful symptoms of human intelligence: humour and technology. Very much like my relationship to Alberto and Alessi.'
Receive our daily digest of inspiration, escapism and design stories from around the world direct to your inbox
Tianna Williams is the Editorial Executive at Wallpaper*. Before joining the team in 2023, Williams taught scuba diving for three years before heading into journalism. Previously she has been involved covering social media and editorial for BBC Wales, Ford UK, SurfGirl Magazine, and Parisian Vibe, while also completing an MA in Magazine Journalism at Cardiff University. Her work covers writing across varying content pillars for Wallpaper*.