ToiletPaper launches a surrealist new beauty line
ToiletPaper founders, artist Maurizio Cattelan and photographer and Wallpaper* contributor Pierpaolo Ferrari, tell us about the launch of their eye-popping new beauty line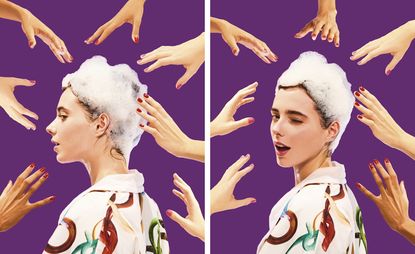 (Image credit: toiletpaperbeauty)
The irreverent minds behind ToiletPaper – artist Maurizio Cattelan and photographer Pierpaolo Ferrari – are applying their brand of vibrant surrealism to beauty with the launch of its new line of bath and body products. 'When we founded ToiletPaper, ten years ago, both Pierpaolo and I wanted to get out of our areas of reference – art and photography – to create a space that was completely free from any constraints,' says Cattelan of what began as a picture-led magazine.
'The search for this freedom, which at first we thought was only our personal need, over time has instead encountered – beyond our forecasts – other worlds, even apparently very distant from ours, giving rise to contaminations that are often unexpected for us too.'
Introducing ToiletPaper Beauty
The magazine's latest 'contamination' sees the Cattelan and Ferrari collaborating with La Bottega, an Italian manufacturer of cosmetic products for luxury hotels, on a range of haircare, hand and body soaps, scrubs, lotions and oils. Speaking about the collaboration, La Bottega's president Tommaso Pacini says, 'to embrace this challenge – which led us outside the world of hotels – we decided to join forces with a partner with whom we could naturally share this innovative energy.
'The collaboration with Maurizio and Pierpaolo has allowed us to fully express our industry-leader know-how on fragrances and skincare, whilst at the same time creating a collection that contaminates the world of beauty with irony and fun,' he adds.
With typical ToiletPaper flair, all of the products feature bold, irreverent graphics, such as an image of saucy spaghetti on a soap bottle and a playing card wedged between butt cheeks on a home fragrance spray. The scents for each product have been developed by drinks mixologist Oscar Quagliarini, in a punchy take on typical beauty line fragrances.
'[Our] aesthetic is dreamlike and visionary, in a certain sense the exact opposite of what is usually found in beauty, which certainly prefers a more minimal mood,' says Ferrari. 'In our images, we often find a world in which reality is subverted, ambiguous and alienating. This is the approach that we also wanted to bring to this collaboration and which is expressed both in the products and in the packaging.'
'The will with La Bottega was to create a kind of aesthetic short circuit that immediately hit the public and made ToiletPaper Beauty become something extremely different.'
INFORMATION
toiletpaperbeauty.com (opens in new tab)
Mary Cleary is the Beauty & Grooming Editor of Wallpaper*. Having been with the brand since 2017, she became an editor in February 2020 with the launch of the brand's new beauty & grooming channel. Her work seeks to offer a new perspective on beauty, focusing on the pioneering personalities, product designs, and transformative trends within the industry.