Todd Bracher on intriguing perfume bottle for Issey Miyake
A Drop d'Issey is the new female fragrance from Issey Miyake Parfums. American designer Todd Bracher discusses his intriguing bottle design and the future of perfume packaging, as we look back at innovation from Issey Miyake perfumes past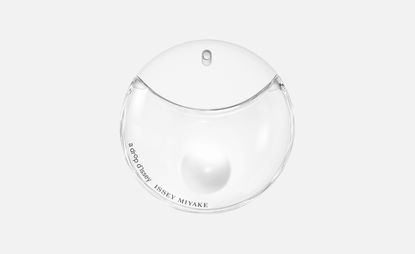 (Image credit: press)
Issey Miyake Parfums unveils its latest female fragrance, A Drop d'Issey, with a bottle created by American designer (and former Wallpaper* Handmade contributor) Todd Bracher.
Issey Miyake Parfums and Todd Bracher
It may come as a surprise that fashion designer Issey Miyake, creator of the slouchy pleats that have become the go-to uniform for the culture biz elite, loves a pun.
Miyake's first fragrance, L'Eau d'Issey, is a homonym for l'odyssée in French, or 'odyssey' in English. His 2009 release, A Scent by Issey Miyake, could also be read as 'ascent by Issey Miyake'. This latest scent is A Drop – aka 'a launch' – of Issey Miyake perfume. It is also, thanks to Bracher, an actual drop of perfume, with a round glass bottle that can be cradled in the hand like a water droplet.

A Drop d'Issey is the third bottle that Bracher has created for Miyake, and the pair are clearly well matched. For both, design should be equally ergonomic and elegant, innovative but not so trend-driven that it falls out of fashion. As Bracher told us, 'the work is not shrouded in shape, or colours, or patterns. The result is exposed. Honest.'
Place a piece of Miyake's ultra-chic, ultra-comfy pleated clothing next to one of Bracher's minimal but unforgettable designs for Georg Jensen and you'll see the connection.
A Drop d'Issey Miyake: the perfume
Issey Miyake revolutionised fragrance in 1992 with the launch of L'Eau d'Issey. The first 'aquatic floral' fragrance for women, it was inspired by the purity of water infused with notes of lotus and rose. Compared to the heady, flavour-saturated scents of the 1980s and early 1990s, L'Eau d'Issey was a breath of fresh air and would prove to be the olfactory equivalent to the era's minimalist aesthetic.
A Drop d'Issey is not as impactful as its predecessor, but it carries on the brand's tradition for watery florals. Perfumer Ane Ayo tried to capture the essence of a water droplet falling off a lilac petal by infusing lilac accord with notes orange blossom and an almond milk accord. It's a gentle, clean fragrance, well suited to those who prefer to go light on perfume.
Bracher's bottle design
'My approach was twofold,' says Bracher about the process behind his droplet-shaped bottle design, which is intended to lie on its side rather than stand upright on the dressing table. 'Firstly, giving a unique experience by how the bottle is cupped in hand, providing for more intimate interaction.
'Secondly, this "lay down" approach allowed me to reduce the material for the bottle by about 10 per cent, which saves on cost while eliminating 10 per cent of the total footprint the entire Drop collection will have in our world.'

It was key for Bracher that the design have as little environmental impact as possible. 'The glass [for the bottle] is 100 per cent recycled,' he says.
As for the packaging, where, typically 'much of the environmental strain is felt', he adds, 'this new approach made for a smaller outer box, which means more can be transported at once, and more can stock a shelf for less wholesale reordering and shipping.'
The future of perfume packaging
Bracher hopes the move towards more sustainable practices will extend throughout the perfume industry, although he recognises that process won't happen overnight. 'I believe the future of fragrance will split into two paths. The traditional path is what we know now.
'The production processes that are in place that make 99.9 per cent of all fragrance packaging in the world are well established. If you are working with the traditional supply chain, it is nearly impossible to do something radically different. So for the foreseeable future, there will be little disruption to the typical typologies of fragrance packaging.

'That said, I am confident we will see an offshoot of technologies crop up that will be really interesting. Some led by adventurous vendors, others by smaller players looking to disrupt. Such as solid perfumes (non-liquid) that open up a new world of techniques to apply fragrances and, therefore, form factors.

'I can also see wearable vessels and what will initially enter as experimental offerings opening up access to a new markets. Over time, I believe these pioneers will be adopted by the large houses, and we will start to see some diversification to the known offering – and it will be exciting, and I look to be front and centre.'
Whatever the future of fragrance, we look forward to seeing what Miyake and Bracher come up with next.
INFORMATION
isseymiyakeparfums.com (opens in new tab)
Mary Cleary is the Beauty & Grooming Editor of Wallpaper*. Having been with the brand since 2017, she became an editor in February 2020 with the launch of the brand's new beauty & grooming channel. Her work seeks to offer a new perspective on beauty, focusing on the pioneering personalities, product designs, and transformative trends within the industry.