La Prairie and Maotik plunge us into the twilight zone at Art Basel and Frieze London
La Prairie celebrates the launch of its Skin Caviar Nighttime Oil with a digital installation offering an entrancing trip into the twilight zone at Art Basel and Frieze London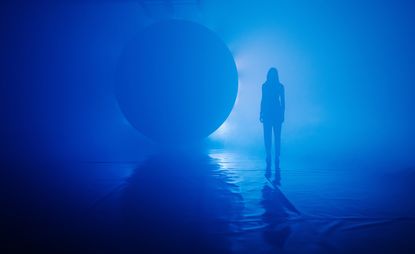 (Image credit: digital artist Maotik)
Wallpaper* Newsletter
Receive our daily digest of inspiration, escapism and design stories from around the world direct to your inbox
Thank you for signing up to Wallpaper. You will receive a verification email shortly.
There was a problem. Please refresh the page and try again.
There's nothing new in a well-known brand using its resources to promote the arts, but few have undertaken that mission with as much dedication as La Prairie. The Swiss luxury skincare brand began its sponsorship of contemporary art at Art Basel and the West Bund Art & Design fairs in 2017. Since then it has funded projects at the Fondation Beyeler museum for modern and contemporary art in Switzerland, supported students at ECAL, and is now set to cement its place as a leading patron of contemporary art with its first appearance at Frieze London this October from 13-17 October.
La Prairie at Frieze London
La Prairie's debut offering at Frieze London is Sense of Blue, a multisensory immersive installation that plunges the viewer into the depths of the night. The piece is by French digital artist Maotik, best known for using computer-generated algorithms to create reality-shifting environments.
Here, he deploys that same technique, although this time using motion sensors, low-frequency sounds, and shifting blue and black lights to simultaneously distort the viewer's sense of space and heighten awareness of their immediate surroundings.
'The idea was to travel through the night through this immersive environment,' says Maotik, speaking from Sense of Blue's debut at Art Basel this September. 'To use these devices to create [the sensation] of travelling not from one distance to another distance, but travelling through time and to use light to change your perception of space.
'At night, your vision is less clear. You see things with more difficulty, but it also opens up new perspectives; when you see less you maybe open your imagination a bit more.'
The Skin Caviar Nighttime Oil
Maotik's installation was commissioned by La Prairie to celebrate the launch of its latest product, Skin Caviar Nighttime Oil. Skin Caviar is one of the brand's most iconic collections, famed for harnessing the reparative powers of caviar and augmenting them with the use of La Prairie's patented Exclusive Cellular Complex (a formulation so highly protected that its components are produced and blended in three separate labs to ensure the recipe remains a secret). The Nighttime Oil is unique within the Skin Caviar collection as it blends the line's signature caviar formulation with a new 'caviar retinol'.
Speaking about the collection, La Prairie's global director of strategic innovation, Dr Jacqueline Hill, says: 'Caviar is, of course, a source of life, and because it's an egg, it's a very rich source of nutrients. We've got quite a few different forms of caviar, and we've studied their benefits at different levels. What we've seen is that most of the forms of caviar that we've developed have an action on fibroblasts, which boost the formation of collagen.'
She continues, 'Then what we've seen is that in different forms, the caviar can have different effects. So when we talk about caviar retinol, you get all the benefits of retinol, which are quite well known – it boosts epidermal renewal, and it also acts on collagen formation – together with the ingredients in the Skin Caviar.'
'All the ingredients in the formula will help with three different things – improving the skin surface as far as deep lines; skin firmness, and there we got really great results; and increasing the barrier function, because your skin barrier gets less efficient at night naturally, but it gets even less efficient with age and we want to compensate for this.'
The product is packaged, like all other Skin Caviar creations, in the brand's striking cobalt blue jars, which pay homage to the late French-American artist Niki de Saint Phalle, who suggested that La Prairie use this distinctive colour.
Art meets science
'The link between the house and contemporary art has been there from the very beginning,' says La Prairie's global chief marketing officer Greg Prodromides. 'That's why it feels like it is at the very core of who we are.' He refers to the establishment of La Prairie clinic, in Montreux, Switzerland, in 1931, which went on to host artists such as Pablo Picasso and Georges Braque, and the fact that its founder Dr Paul Niehans was an art collector himself.
'There was always a kind of artistic effervescence in the clinic that actually continued to strengthen with the beginning of [the skincare line] in the 1980s with the encounter with Niki de Saint Phalle,' Prodromides continues.
'In recent years, we wanted to be a bit more vocal about this link and to share it with a larger audience. Hence, our decision to collaborate with Art Basel in all its editions, but also other contemporary art fairs.
'When we choose an artist to work with [on these projects] we are always looking at a couple of things. First, artists with whom we share a common set of values; where we see that they will help us tell the story of the house but via their creative paradigm, via their eyes,' says Prodromides.
'And we always try to work with younger artists that are emerging, and often women artists since women are underrepresented in the world of contemporary art.
'So for this project, we were looking for somebody who could really bring the values of Skin Caviar to life, which are the audacity behind Skin Caviar, the audacity of using [actual] caviar in skincare, and also this fusion of art and science. The choice of digital art became much more evident, for its audacious characteristics and because it was a form of art with which we could push the boundaries of what we've already done.'
Speaking about the connection between art and science further, Maotik says: 'When it comes to artists and scientists, we do the same thing. Everything is a series of experimentations that eventually brings together a [beauty] product or an artwork.
'We move ahead, sometimes into the unknown, developing new techniques. Our work is like that of scientists – we do a lot of tests, creating prototypes and guiding ourselves according to the results. We can come across unpleasant surprises, as well as stunning outcomes.'
In the case of the brand's latest launch and its Frieze debut, from the 13-17 October, the results are certainly a 'stunning outcome
Information
Receive our daily digest of inspiration, escapism and design stories from around the world direct to your inbox
Mary Cleary is the Beauty & Grooming Editor of Wallpaper*. Having been with the brand since 2017, she became an editor in February 2020 with the launch of the brand's new beauty & grooming channel. Her work seeks to offer a new perspective on beauty, focusing on the pioneering personalities, product designs, and transformative trends within the industry.