A behind-the-scenes look at the Balenciaga Couture candle
Smell scientist Sissel Tolaas takes us into her lab to share the bizarre but ingenious story behind the new Balenciaga Couture candle's fragrance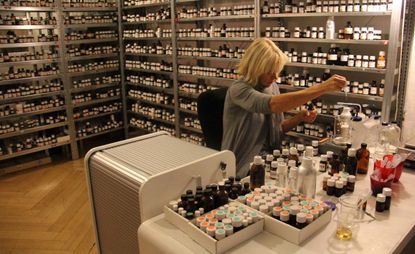 (Image credit: Courtesy of Sissel Tolaas.)
'When other people start throwing up,' Sissel Tolaas told us back in 2020, 'that's when I start to work'. Thankfully, Tolaas' new candle fragrance for Balenciaga is quite the opposite of vomit-inducing, though it certainly maintains the perfumer-artist-scientist's penchant for bizarrely derived scents.
To create the Balenciaga Couture candle, Tolaas used a special device to extract molecules from the walls of Balenciaga's historic couture house at 10 avenue George V in Paris, along with pieces from the Balenciaga archive and objects that belonged to Cristóbal Balenciaga himself. The result is a remarkable olfactory document of Balenciaga history, from the couture house's opening in 1937 to its closure in 1968 and its reopening in 2021 under current creative director Demna. Open the candle's mirror-polished case, designed with Panter & Tourron, and you will be blasted with an intoxicating mix of burnt incense, tobacco smoke, warm skin, old paper, tanned leather, aged wool, delicate silk, exotic fur, oak, and the oiled metal of sewing machines.
This candle fragrance, or 'BHC smell' as Tolaas calls it, is not the first collaboration between Balenciaga and Tolaas. Back in 2019, Demna tapped Tolaas to create the smell of power for the brand's S/S 2020 show, which centred around 'power dressing, no matter what one does as a job'. As models walked through the ultramarine room, inspired by the European Parliament meeting chamber, Toolas pumped a concoction made from the smell of blood, antiseptic, petrol and money in through the vents.
Other Tolaas projects include creating cheese from the sweat in David Beckham's trainers and then serving to VIPs at the London Olympics, filling a rose-coloured room with the sickening scent of salmon farms as a comment on their environmental impact, and having a fragrance linked to oxytocin (the hormone that facilitates childbirth) emanate from walls in order to create a feeling of togetherness. Her work is also currently on show as part of the Serpentine's Back to Earth exhibit, for which she haas created a unique smell that evolves throughout the exhibition. By highlighting the emotional power of our sense of smell, the work seeks to emphasise the need for change in response to the climate emergency.
For Tolaas, smell is as much philosophical exercise as it is a sensory one, which makes her a perfect match for the cerebral aesthetics of Balenciaga. Speaking about the collaboration Tolaas told us, 'these [smell-trapping] devices are my "smartphone" for invisible information. Surprise is part of my discoveries. Nothing in the air is stable and static.'
INFORMATION
Mary Cleary is the Beauty & Grooming Editor of Wallpaper*. Having been with the brand since 2017, she became an editor in February 2020 with the launch of the brand's new beauty & grooming channel. Her work seeks to offer a new perspective on beauty, focusing on the pioneering personalities, product designs, and transformative trends within the industry.