Oil painting: Zevs 'liquidates' a David Hockney classic at London's Lazarides Gallery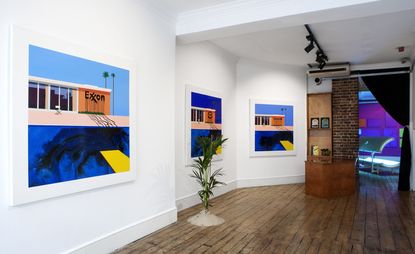 (Image credit: courtesy the artist and Lazarides Rathbone)
'This is paint, not politics,' French street artist Zevs (pronounced Zeus) insists of his new exhibition at Lazarides Gallery in London. Based on oil spills, it's difficult to believe there's no critical, activist edge to the show, especially when considering the artist's career to date. He's famous (and infamous) for his signature 'liquidation' street-art, where familiar logos (Chanel, Coca-Cola, Louis Vuitton, Google) are distorted by drips of paint. Here, Zevs integrates this technique for the first time into a larger mise en scène – a re-creation of David Hockney's iconic A Bigger Splash (1967). In Zevs' updated version, oil company logos are blazoned to the wall of the modernist building, melting realisitically down into the pool, where they create rainbow sheens of pollution.

Other than the play on words the title of Hockney's piece affords (Zevs' show is called 'The Big Oil Splash'), he chose this work simply 'because I like Hockney, of course'.

'This exhibition is not intended to be a negation of his work, but I've never gone so far as to name it an "homage", either. Hockney is one of those painters I've appreciated from a very young age, and I fell on this particular work naturally.' The year the original was painted also happens to be the year of the Torrey Canyon oil spill – one of the most damaging examples in history.

As well as looking backwards, Zevs is looking forwards with this exhibition, which marks a new and developing phase in his artistic practice. After ten years of focusing on his divisive liquidation works, in 2014, Zevs felt a desire to reconnect with the 'technicalities of painting', which he realises here with poise – up close the paintings are richly coloured and engaging. When creating the 'Hockney-ed' background (each painting is 1.5 sq m, loyal to the large dimensions of the original), he worked in vertical, with the painting hanging from the wall. 'I was so careful and delicate that I probably took longer than Hockney to paint this bit,' Zevs jokes. When creating the oil effect, he turned the work horizontally, allowing the paint to move and spread naturally, like oil in water, with the intention of creating 'a sharp contrast between the clean-lines of the original and my fluid, organic additions'.

The Hockney-inspired works make up the first room in Lazarides, and can be imposingly seen from the street. The second phase of the exhibition diverts into the windowless back room, in what Zevs describes in a thick French accent, as 'l'environnement'. On entry, guests are given a rather fetching pair of magenta UV-protective sunglasses. Inside, a series of brightly coloured monochrome paintings 'inspired by Yves Klein's empty blue works' surround, of all things, a sunbed. Viewers insert metal disks into the tanning machine, and when it whirs to life, so do the paintings, which are composed in a special, UV-sensitive paint. Hidden images of American Dream scenes (yachts, beaches, galloping horses), literally appear out of the blue, only to disappear when the sunbed clicks off.

This sense of a vanishing Americana unites the show – palm trees stand wonky in sand composites dotted around a Jacuzzi filled with oil (an intimidating centrepiece that the artist whimsically conjured up just a week before the show opened). All of these aspects, along with the arresting message of the Hockney works, tell the story of an American-dream that's half asleep – tarred, in this particular instance, by Total, Shell and Conaco.
INFORMATION
'Zevs: The Big Oil Splash' is on view until 1 September. For more information, visit the Lazarides Gallery website
Photography courtesy the artist and Lazarides Rathbone
ADDRESS
Lazarides
11 Rathbone Place
London, W1T 1HR
Elly Parsons is the Digital Editor of Wallpaper*, where she oversees Wallpaper.com and its social platforms. She has been with the brand since 2015 in various roles, spending time as digital writer – specialising in art, technology and contemporary culture – and as deputy digital editor. She was shortlisted for a PPA Award in 2017, has written extensively for many publications, and has contributed to three books. She is a guest lecturer in digital journalism at Goldsmiths University, London, where she also holds a masters degree in creative writing. Now, her main areas of expertise include content strategy, audience engagement, and social media.