Yota Space digital art festival, St Petersburg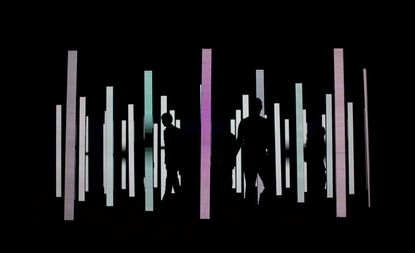 (Image credit: Laura Pannack)
With its neoclassical architecture and picturesque maze of snow-covered canals, St Petersburg may not spring to mind as the obvious location for a pioneering digital art festival, but today's artists using code as their clay are not the alien breed you might expect. When Wallpaper* made the chilly journey to Yota Space last week, we discovered a new wave of digital creatives sculpting surprisingly tactile and emotive works of art.
The festival is the first annual digital art exhibition by Russian company Yota - which delivers seriously speedy 4G wireless broadband. It's an ambitious venture that takes over five floors of a defunct shopping mall with a neatly curated mix of works by leading digital artists, including Jason Bruges, Chris Levine, Brian Eno and United Visual Artists.
Casting a soft glow over one floor is Jason Bruges' haunting 'Peasouper' installation, specially commissioned for the event. The British artist-cum-designer uses the fog-like fluid contained within four acrylic tanks as a surface on which to project images of the viewer in time lapse. By moving from tank to tank, you can literally chase your own shadow through the mist.
'It's a form of digital narcissism,' explains Bruges, best known for his 'Mimosa' light installation at Salone del Mobile, which mimicked the behaviour of plants, and his 'Flatliner' lights for Established & Sons. '"Pea Soupa" presents people's digital reflections. If no one's around, then it no longer exists,' he says. Vain though it may sound, it's a strangely mesmerising and soulful experience.
Equally immersive is '3Destruct' by French collective, AntiVJ, a few floors up. Using 3D projection mapping technology, the artists presented moving images on thin strips of fabric panels, suspended from the ceiling and accompanied by an eerie musical score. Visitors can walk through and interact with the somewhat disorientating installation.
'3Destruct' is part of a section of the exhibition curated by
http://www.onedotzero.com/" target="_blank" >Onedotzero - an innovative arts organisation that has been supporting digital collaborations for 14 years, largely through its touring festivals. 'It's a multi-layered piece that asks the viewer to become the performer,' explains Onedotzero founder and creative director, Shane Walter.
As does 'Augmented Shadow' by Korean artist, Joon Moon, albeit on a much smaller scale. The work uses tangible objects to produce artificial shadows on a tabletop, which take the form of miniature people, houses, trees and birds. Move around the blocks on the table and you can create your own narrative with the components. It's a quiet, contemplative and fantastical piece that exists somewhere between the virtual world and the real. 'Digital art has historically been quite masculine and hard but Joon's piece has a human sensibility and sensitivity,' says Walter.
This shift in tone is evident everywhere. For all its flashing lights, even Chris Levine's 'Alright Now' is surprisingly meditative. Gaze at the LED strips straight on and all you see is flickering light, but look past them, and words and images play back in your peripheral vision. These fleeting glimpses speak about the importance of the present. Blink and you'll miss it. 'The past is over, the future is not here yet, so all that matters is the present,' says Levine, who is best known for his holographic portrait of the Queen. 'My work is about new ways of seeing - about putting you in a mode of questioning.'
Levine is also interested in the sensorial impact of his work - a concern shared by United Visual Artists, who have brought over their 'Volume' installation, first seen in the V&A's John Madejski Garden in London. As you walk through its columns, you trigger different lighting displays and sounds, which come courtesy of Massive Attack. 'The users act as the conductors,' says UVA's Keri Elmsly. It's fascinating to watch people forge their own patterns of light and sound through the installation.
Elmsly is hesitant to describe UVA as 'digital artists'. 'It's a somewhat ghettoist term,' she says. 'The conversation here is about technology but the pieces don't necessarily speak about it. Technology is part of the fabric of daily life. The works are not defined by the tools that make them.'
In fact, UVA is currently exploring deliberately low-tech devices. 'We're going analogue,' says Elmsly. Similarly, French studio Lab 212's musical toy, controlled using Post-It notes, mixes digital with analogue and has a consciously old-school aesthetic that masks the mechanicism that drives it. This lack of emphasis on technological bling prevents the pieces from feeling gimmicky - an obvious danger with experiental digital art. Narrative is also important for a sense of authenticity - evident in the best works at Yota Space.
Throughout the exhibition it is clear that this new emphasis on 'digital' (whether subtle or more overt) blurs the boundaries between science, art, design and technology, which makes it rife with potential for collaborations. Links with the music industry already abound - from Chris Levine's sound and laser projects at Eden Sessions in the UK to UVA's partnership with Massive Attack - and the festival launch party was fittingly headlined by UK electro pop band Hot Chip. Even UVA itself is made up of photographers, architects and engineers, none of whom stick to their given disciplines. Such an ambitious festival, in scope, scale and execution, is sure to act as a catalyst to future collaborations - as well as being a visual feast in itself.
ADDRESS
Frunzenskiy Store Moskovsky pr, 60 St Petersburg