First look at Yoko Ono lyric video for the artist's new album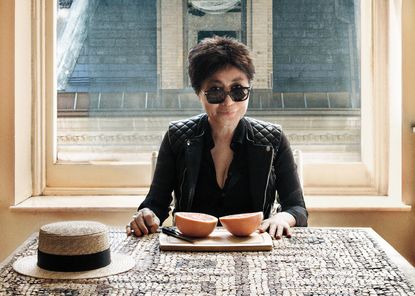 (Image credit: Matthew Place)
Yoko Ono has coolly defied being pigeonholed by her critics for over 50 years, wearing many hats (figuratively and literally) along the way: a pioneer of performance art, a staunch peace activist, a dance hitmaker, just to name a few. At 85 years old, the conceptual artist, singer and songwriter shows no signs of slowing down as she is set to release a new record, Warzone.

Ono is revisiting 13 songs from her catalogue spanning 1970-2009, the messages woven into her lyrics still pertinent – perhaps more so than ever today. 'Things are very difficult for everybody. It's a war zone that we are living in,' wrote Ono in a statement. 'I like to create things in a new way. Every day things change.'

Each of the tracks on Warzone have been brought to life by artist Jonny Sanders in a series of short conceptual videos using Ono's drawings from the Franklin Summer series, as well as a font created from her handwriting. The illustrations echo the pared-back arrangements of the artist's new LP, which places emphasis on Ono's voice and her messages of peace, empowerment and caution.

She concludes the ominous questions of Now Or Never (1971) with one of her most memorable lines: '[A] dream you dream alone is only a dream, but a dream we dream together is reality.' The final entry of Warzone is an alternate reimagining of John Lennon's Imagine, for which Ono received a songwriting credit in 2017 – 46 years after its debut.

Warzone will be available in full from 19 October on Chimera Music, the label helmed by Sean Ono Lennon. Leading up to the launch date, Ono will release a new song each Tuesday on her website Imagine Peace and on streaming services. Watch the lyric video for I'm Alive – the album's 11th track – exclusively below.
INFORMATION
Warzone is available from 19 October. For more information, visit the Imagine Peace website (opens in new tab) and the Chimera Music website (opens in new tab)