A new Tokyo museum designed by Kume Sekkei brings us closer to the art of Yayoi Kusama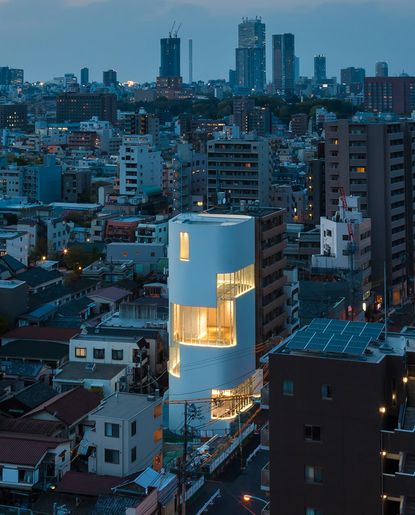 (Image credit: Designed by Kume Sekkei, Art of Yayoi Kusama)
Glowing pumpkins, psychedelic polka dots and infinite mirror reflections: the grand dame of Japan's art world, Yayoi Kusama, has long been famed as the anti-queen of minimalism. So it might come as some surprise to see that a new Tokyo museum devoted to the 88-year-old artist is the antithesis of her eye-popping artworks. Instead, the Yayoi Kusama Museum brings to mind a modern lantern, with softly curved edges, walls of glass, natural light and lots of (uncharacteristic) white.

The new museum – set up by a foundation created by the artist – is located in a residential neighbourhood in Shinjuku, not far from her studio and the psychiatric hospital where she has lived voluntarily for 40 years.

Designed by architectural firm Kume Sekkei, the concept is simple: five white cubes have been stacked and slightly rotated, creating five compact floors, each measuring less than 131 sq m.

A nod to the artist's most famed motif can be seen upon arrival at the white tower, with the ground floor glass façade covered in white polka dots. The art action takes place upstairs: the first and second floors are home to two gently curved white gallery spaces – for the inaugural show, the monochrome Love Forever marker pen etchings are on one level, the rainbow-bright My Eternal Soul series on the next.

An installation room is on the next level, currently home to the not-very-succinctly entitled Pumpkins Screaming About Love Beyond Infinity (cue countless glowing pumpkins reflected infinitely into mirrors). The top floor has a small curved library leading to a roof terrace with classic Tokyo rooftop views – plus a single pumpkin installation and a bench beneath a patch of urban sky.

'The balance between the minimalist white building and the colourful installations happened by chance,' explains Akira Tatehata, museum director. Akihiko Ito, general manager at Kume Sekkei, adds: 'Each exhibition space retains its own independence at every floor, yet it is continuous in a helical manner, as if guided by the soft natural light pouring down all the floors.'

The simplicity of the structure creates a clean backdrop for Kusama's work while somehow maintaining her spirit throughout (right down to the loos and lifts, mini treasure troves of mirrors and red polka dots). Best of all? With pre-booked visitors strictly limited to four daily batches of 50 at a time, the atmosphere is likely to remain as serene as the décor.
INFORMATION
'Creation is a Solitary Pursuit, Love is What Brings You Closer to Art' is on view until 25 February 2018. For more information, visit the Yayoi Kusama Museum website
ADDRESS
Yayoi Kusama Museum
107 Bentencho
Shinjuku-ku
Tokyo 162-0851
Receive our daily digest of inspiration, escapism and design stories from around the world direct to your inbox
Danielle Demetriou is a British writer and editor who moved from London to Japan in 2007. She writes about design, architecture and culture (for newspapers, magazines and books) and lives in an old machiya townhouse in Kyoto.
Instagram - @danielleinjapan