Wolfgang Tillmans votes Remain in latest London exhibition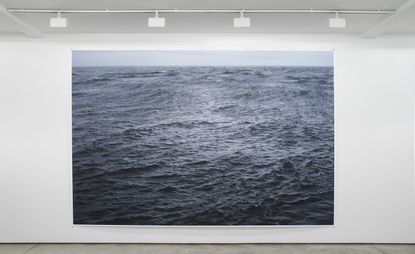 (Image credit: Wolfgang Tillmans)
The German photographer Wolfgang Tillmans confesses he has 'morphed in recent months from an inherently political, to an overtly political person'. It's a sentiment seemingly shared by many. The lead-up to the EU referendum on 23 June has seen a relentless barrage of fervid campaigning, impassioned pleas and heated contentions from both sides of the aisle.

So to London, where the theme – and timing – of his new solo exhibition at Maureen Paley couldn't be more appropriate, however coincidental. Featuring new and previously unseen work, Tillmans' latest effort hones in on the 'visible and invisible borders that define and sometimes control us'.

The self-titled exhibition comprises a characteristically eclectic mix of subjects, including immigration counters, pastel landscapes, street portraits and even a particularly squirm-inducing, close-up of human blood flowing through medical tubes. Upstairs, a new grouping of tables from his ongoing truth study center series have been installed. Another work, I refuse to be your enemy 2, (2016), collates blank sheets of office paper from North America and Europe. Inspired by a student workshop Tillmans gave last year in Iran, the artist comments on the parallels in nationalised forms of printed communication.

The largest work, The State We're In, A (2015), takes pride of place in the downstairs gallery. Capturing a stark expanse of water in the Atlantic Ocean, where 'international time lines and borders intersect', it's the work that resonates most with Tillmans' pro-EU poster designs, examples of which are being presented on the exterior of Maureen Paley.

'What is lost is lost forever' says one poster; 'No man is an island. No country by itself' declares another. Originally launched in April, the works are available freely on his website, where Tillmans encourages their download and dissemination as posters and T-shirts. He has also dedicated his Berlin project space, Between Bridges, to the refugee crisis. The line between where Tillmans the artist ends, and Tillmans the campaigner begins is becoming all the more blurred.

The photographer recently captured the Tate Modern's Herzog & de Meuron-designed extension for our latest issue and limited edition cover, ahead of a major retrospective there early next year. With the EU referendum just over a week away, it will be fascinating to see how Tillmans responds to this 'one-in-a-generation moment'.
INFORMATION
The exhibition is on view until 31 July. For more information, visit Maureen Paley's website
Photography © Wolfgang Tillmans. Courtesy of Maureen Paley, London
ADDRESS
21 Herald Street
London E2 6JT
Receive our daily digest of inspiration, escapism and design stories from around the world direct to your inbox