Moment in time: 'Vivienne Westwood, Café Society, 1994' at Webber London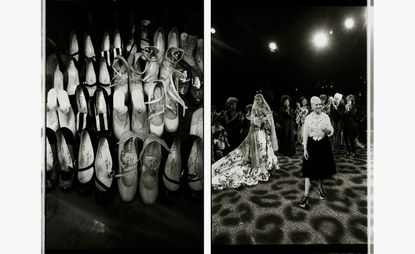 (Image credit: Steve Harries)
In fashion, a seminal moment will occasionally transpire that will etch itself irreversibly in the consciousness of the industry at large.

When Vivienne Westwood showed her spring collection at Paris' Grand Hotel in 1994, it was a perfect storm of a designer at the height of her powers coupled with an unparalleled cast of runway talent that would come to redefine the industry. Luckily, for those that missed it, the show is the subject of a new exhibition of photographs – at London's Webber Gallery Space and by photographer Steve Harries – entitled Vivienne Westwood, Café Society, 1994.

A visual and sensual extravaganza, the show featured the likes of supermodels Nadja Auermann, Yasmin le Bon, Helena Christensen and Kate Moss decked out in creations of rustling silk and taffeta, squeezed into corsets and strutting insouciantly to a soaring baroque soundtrack. The show debuted at a time when Westwood was exploring the exchange of sartorial ideas between France and England, and thus the result was in part a reference to 19th century France and an homage to the influential British couturier Charles Worth, while the volume of each gown and train had reached maximum proportions due to a collaboration with her husband and design partner Andreas Kronthaler.

Backstage, a young Harries – then a 21-year old student at Central St Martins – was assisting fellow photographer and friend Gavin Bond, who were both given a rare chance to record what would become a seminal moment in British fashion. 'It was incredibly exciting', he tells Wallpaper*. 'I had experienced being backstage at Saint Martins graduate shows and was surprised at how comparatively calm this felt. People were privileged to be there and worked hard – with my limited knowledge of fashion at the time I still knew the collection was special.'

Westwood – an inspiring and generous presence to the assembled backstage cast – asked Harries to document the collection's details, including the shoes and accessories, during which time he took the images that form the exhibition. After processing the films in Paris following the show and hand printing the bromide prints, the final images lay untouched in a shoebox in his home for over 20 years.

Though he was initially reluctant to show the images after so many years, Harries relented when he realised aesthetic similarities between the images and his current work. 'These pictures have a certain spontaneity that I love, as well as evoking an obvious sense of nostalgia,' he says.
INFORMATION
'Steve Harries: Vivienne Westood, Café Society, 1994' is on view until 20 March. For more information, visit Webber Gallery Space's website
Photography courtesy the artist and Webber Gallery Space
ADDRESS
Webber Gallery Space
18 Newman Street
London, W1T 1PE