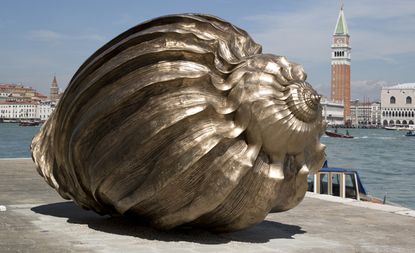 (Image credit: TBC)
Venice's persistent rain and unseasonably frigid temperatures may have put a dent in the glamorous sunbathing aboard water taxis, but it had no impact on the excellent art previewed by collectors, dealers and journalists at the 55th edition of La Biennale di Venezia (opens in new tab).

'The weather was terrible but it's been an incredible week,' said Ginevra Elkann, president of Turin's Pinacoteca Giovanni e Marella Agnelli Fondazione (opens in new tab), during a lunch she hosted for Cindy Sherman (opens in new tab) to celebrate the artist's imaginary museum project in the Arsenale (opens in new tab). 'There is so much great art here right now.'
See our top ten highlights from the Venice Art Biennale
Curated by Massimiliano Gioni (opens in new tab), artistic director of the Nicola Trussardi Foundation (opens in new tab) and exhibition director at New York's New Museum (opens in new tab), this year's Biennale was aptly entitled 'The Encyclopedic Palazzo (opens in new tab)', inspired by Marino Auriti (opens in new tab), the midcentury artist who dreamed of a museum that would house all the world's knowledge.

'Auriti's plan was never carried out, of course,' says Gioni, 'but the dream of a universal, all-embracing knowledge crops up through the history of art and humanity.'

The oddball theme wove its way seamlessly through the showspaces, where works from the past century were presented together with new commissions from 150 artists from 38 countries. An eclectic array of voices from past and present were corralled - and unified, to a certain extent - by the copious use of repurposed materials, collections of objects and a strong focus on the handmade. It is not by chance that the exhibit opened with a presentation of Carl Jung (opens in new tab)'s 'Red Book', a dense, illustrated manuscript that the psychiatrist laboured over for 16 years.

The pre-opening mob ballooned quickly at the city's Giardini, site of the national pavilions for 88 countries. Queues were particularly dense at the German pavilion (hosted by the French), where Ai Weiwei (opens in new tab) had installed 886 'flying' stools; at the American pavilion, where Sarah Sze (opens in new tab) had strung billions of household items into an artful web; and with the Danes, where Jesper Just (opens in new tab)'s video installations attracted a constant wave of viewers. But the brightest spots were also the least expected: Ireland, Chile and Wales all pulled out beefy art coups in this year's rainy edition (see our slideshow for details).

Throughout the week, 47 collateral events sprinkled their way along the city's canals and into its marvelous palazzos. Anthony Caro held a retrospective of his metal and wood sculptures at the Museo Correr (opens in new tab), Marc Quinn (opens in new tab) took over the Isola di San Giorgio, Ron Arad (opens in new tab) presented a jewellery collaboration in Palazzo Cavalli and John Pawson (opens in new tab) displayed a sleek lens sculpture with Swarovski (opens in new tab) at the Basilica San Giorgio.

When the art ran dry - hardly possible - there was enough champagne and platters of granseola to keep everyone satisfied during the heavily soaked social calendar. In addition to the hundreds of civilised cocktail parties thrown under various gilded and frescoed ceilings, Prada (opens in new tab) held cocktails at their Ca' Corner palazzo, Trussardi (opens in new tab) threw one of the most ambitious bashes of the week to celebrate the 10th anniversary of their art foundation, Amy Sacco hosted everyone every night at her pop-up Bungalow 8 at Palazzina G (opens in new tab) and Jeremy Deller (opens in new tab)'s steel band got the week off to a kickin' start at the British pavilion.