Turner Prize 2021 exhibition opens: pick your winner
The Turner Prize 2021 exhibition has opened at the Herbert Art Gallery & Museum in Coventry, UK (until 12 January 2022). Five activist collectives present projects embracing topics from neurodiversity to community care to farmed salmon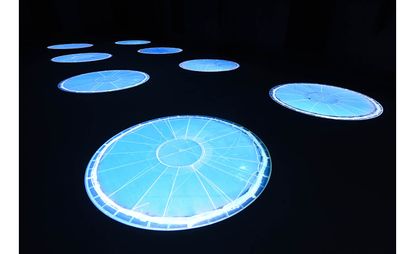 (Image credit: Doug Peters - PA Wire)
In art, architecture and, by definition, beyond, creative and cross-disciplinary collectivism is the modus operandi of the moment. Connection, by multiple means and in multiple ways, inward and outward directed, is a defining ambition. And almost always, this common purpose has an activist tilt. It is a trend recognised by the organisers of this year's Turner Prize, which has shortlisted five activist collectives for the award. And they are suitably dispersed and diverse in practice, as showcased in the Turner Prize 2021 exhibition, which has now opened at Herbert Art Gallery & Museum in Coventry, this year's UK City of Culture.
Inevitably, given that so much of what these art collectives do happens at a street or 'grassroots' level, deliberately outside the sanctified gallery space, this presentation is more a series of teaser trailers or documentary evidence of their work.
Turner Prize 2021 exhibition: nominees and works
Array Collective
Belfast-based Array Collective tackles issues around language, gender and reproductive rights as well the politics, identity and otherwise of Northern Ireland. And they do it using performance, photography, video and installation.
Array Collective has created a fantasy síbín, 'a pub without permission', playing a video of The Druthaib's Ball, its wake for the centenary of Ireland's partition, rather than the football.
Black Obsidian Sound System (BOSS)
Established in London in 2018 by a community of queer, trans and non-binary Black people and people of colour, Black Obsidian Sound System (BOSS), as the name suggests, re-wires and amplifies the idea of the sound system as a place of community and resistance.
BOSS's installation, The Only Good System is a Sound System, is a spare but multimedia environment, while the next door space will play host to a local radio station Hillz FM.
Gentle/Radical
Set up in the Riverside area of Cardiff in 2017, Gentle/Radical is a collection of 'community activists, conflict resolution trainers, faith ministers, equalities practitioners, youth workers, land workers, writers and artists', and organises community film screenings, performances and talks.
RELATED STORY
Here, Gentle/Radical offers a kind of mapping, in various forms, of IRL networks of friendship and community in a system that simply asks us to be more productive, whatever the human cost.
Project Art Works
Working in a space where art meets care, Project Art Works – based in Hastings and the longest established of this year's contenders – supports neurodivergent artists.
For the exhibition, Project Art Works has installed a temporary studio, workshop and archive of just some of the 4,000 works by neurodivergent artists it has helped support over the last two decades.
Cooking Sections
Perhaps the best known, and gallery friendly, of the shortlisted practices, Cooking Sections, founded by Daniel Fernández Pascual and Alon Schwab in 2013, uses food, and the often terrifying details of its production, as a way to address our more broadly calamitous handling of natural resources.
To the exhibition, Cooking Sections brings the Salmon: Traces of Escapees audio and film installation. (There is more evidence of its activity in the gallery's café, which has stopped serving farmed salmon, replacing it with seaweed and sea vegetables. The Herbert is just one of 21 cultural institutions, including London's V&A, Serpentine Galleries and Science Museum, to ditch farmed salmon as part of Cooking Section's Climavore project. Working with the artists and café operator Benugo, these museums will now look to develop menus that support regenerative food production.)
Of course, there is a sense here of fragmentation, of stories only half told and installations ready to be 'activated' but, for the moment, inert. But the displays are surprisingly moving and energising, as the programme has it, 'pocket utopias'. What unites all these artists is a concentration on the local and community-based activity and action and not – as some of the inevitable sneering has it – on easy sloganeering. It is the difficult art of trying to make change happen.
The Turner Prize 2021 winner will be announced on 1 December 2021.
INFORMATION
The Turner Prize 2021 exhibition is at the Herbert Art Gallery & Museum until 12 January 2022, coventry2021.co.uk