Thomas Demand explores artistic ownership at Fondazione Prada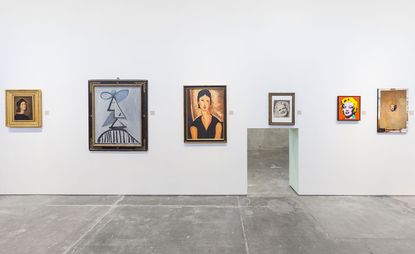 (Image credit: Delfino Sisto Legnani Studio Courtesy of Fondazione Prada)
At what point does appropriation become theft? If an act of theft is artistic enough, is it acceptable? Can any art form exist without borrowing from elsewhere?

These are the questions raised by 90 works at a new exhibition curated by Thomas Demand at Fondazione Prada, Milan. The works – dating back to 1820, right up to the present – prove that these questions on authorship, ownership and creativity have a long history in art practice, and with the vast proliferation of free information and images on the net, they're even more of a preoccupation for artists – and viewers – to address in the present.

Carved into three overarching sections, L'Image Volee (The Stolen Image) deals with the physical and conceptual contemplations of the theme. First off, Demand has pulled together works that explicitly refer to the criminal act of stealing – or that commit a theft in order to make their art. This includes a work by American artist Richard Artschwager (known for his architectural motifs and Formica works). Artschwager commissioned his work – a Persian carpert entitled Stolen Rug, 1969 – to be stolen from the exhibition in which it was to appear in Chicago. Other pieces, such as Richter-Modell (interconti), 1987 – a coffee table made from a Richter painting by Martin Kippenberger – present works literally made from existing art works.

This leads neatly on to artists who re-make other artists' artwork. Confused? That's part of the effect of Appropriation Art such as Elaine Sturtevant's Duchamp Man Ray Portrait, a piece from 1966, which creates a sense of vertigo that is not unlike the feeling of endlessly scrolling on the Internet.

Appropriation is discussed too in the collages of John Stezaker and Wangechi Mutu.

At a certain point, the spectator becomes the spectated. Of the works to watch out for are Baldessari's Blue Line (Holbein) installation, 1988, fitted with a hidden camera that takes pictures of visitors; and Sophie Calle's L'Hotel – stealthy shots the artist took of unmade beds and belongings in unoccupied rooms while working as a maid at a hotel in Venice. This section brings the exhibition's discussion full circle, drawing a parallel between voyeurism and surveillance and the process of observing and making art that is then observed and consumed.
INFORMATION
For more information, visit the Fondazione Prada website (opens in new tab)
ADDRESS
Largo Isarco, 2, 20139 Milano, Italy
VIEW GOOGLE MAPS (opens in new tab)
Charlotte Jansen is a journalist and the author of two books on photography, Girl on Girl (2017) and Photography Now (2021). She is commissioning editor at Elephant magazine and has written on contemporary art and culture for The Guardian, the Financial Times, ELLE, the British Journal of Photography, Frieze and Artsy. Jansen is also presenter of Dior Talks podcast series, The Female Gaze.