The Victor Pinchuk Foundation reveals the winners of its 2014 Future Generation Art Prize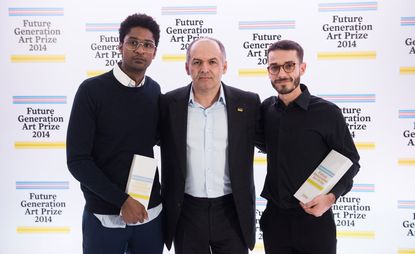 (Image credit: TBC)
Despite the chilly -9°C early winter freeze in Kiev there was a consistent queue of trendy young people waiting eagerly outside the Pinchuk Art Centre throughout the weekend to see the Future Generation Art Prize exhibition. Given recent events in Ukraine (opens in new tab), there's more interest than ever in the Victor Pinchuk Foundation's biennial art prize, both locally and internationally.

Now in its third year, the $100,000 prize awarded by billionaire philanthropist Victor Pinchuk is the most generous international art award open for application to all artists under 35; it's also attracted high profile judges in previous years, Nicholas Serota and Ai Weiwei included – little wonder the Foundation received 5,586 applications from 148 countries this year.

An international committee whittled that tally down to a 21-strong shortlist with, for the first time, two artists from the Ukraine. Meanwhile, China, the UK, and the US were also well represented with two artists each. In his award speech Pinchuk emphasized the importance of providing a platform for voices of discontent in a political crisis. 'Art is linked to freedom and openness,' he said.

When we asked him if he thought Ukrainian artists had been silenced or crippled by revolution and political crisis this year, Pinchuk shook his head. 'Artists respond faster and deeper than the rest of the world.' Pinchuk Art Centre curator Bjorn Geldhof said that the revolution which took place in February 'unites almost all the works in the show, whether it be in a direct or indirect way.'

Chilean artist Pilar Quinteros reconstructed a vanished fountain at Maidan - the site in Kiev of the main protest camp in February - out of paper, before asking people to destroy it; and collective performance art group Public Movement led a crowd symbolically through the city's snow-laden streets, using dance, music and theatre to provoke cycles of friendship and strife among dozens of participants in major sites of in the city.

In the end the main prize was shared between Angolan installation artist Nástio Mosquito, now based in Ghent, and New-York based Colombian artist Carlos Motta. The panel of judges, including sculptor Doris Salcedo and curator Eckhard Schneider, awarded three Special Prizes (including a $20,000 residency programme) to two Ukrainian artists and a Russian artist. They insisted the decision was not politically motivated, and that the prize was judged purely on quality. 'That was a gift from God,' commented Pinchuk.

We spoke with both of the winning artists to find out more. Carlos Motta tells us about the the historical and cultural prejudices that fuel his artistic practice...

Wallpaper*: Your sculpture 'Instrument', a penis hand-carved in obsidian stone in a glass vitrine in the middle of the floor, is the first artwork one sees in this year's Future Generation exhibition. Is it a challenge?
Carlos Motta: We still live a deeply homophobic world. It's deeply engrained even in places where one thinks the law has put things in place. The situation in Ukraine is extreme - homosexuals and transsexuals are targets, literally. Yes, that's something that needs to be challenged and tackled.

Almost all your work references historic objects and monuments from Colombian culture. Tell us about the homoerotic drawings of Aztec-style figurines.
CM: That work is about the ways in which pre-Hispanic objects were recontextualised under colonial rule. Eurocentric thinking and European epistemology was applied to specific objects that depicted same-sex relations. What those works meant back then we will never know because everything was erased, or made to be understood within the framework of religious and legal structures. I'm drawing on different sources to speak about that processes of erasure and reinterpretation form a specific perspective – a patriarchal, dominant perspective driven by morality and criminality.

This is your first time exhibiting in Ukraine. Did you specifically want to address the audience in Kiev?
CM: I made a new work called 'The History of Homosexual Repression in Ukraine'. It consists of a city light outside the gallery, and a free publication for people take away. I've been working with a Ukrainian journalist, who helped research ways in which homosexuality has been repressed here. The publication lists 60 ways in which the body, homosexuality, and transsexualism have been criminalized, neglected, socially repressed, culturally segregated and so on, from the Middle Ages to today.

Fellow award winner Nástio Mosquito reflects on his audience and the importance of travel...

Wallpaper*: Your installation is complex. It features two films being simultaneously projected into opposite walls, with audience seating on either side. How do you know where to sit?
Nástio Mosquito: It's easy for us as audiences to sit back and judge what we are experiencing. This was an attempt to avoid that, to provide an experience where you engage with the work. I want [to create] a sense of uncomfortableness because you're watching something but at the same time you're being seen. There's constant interaction.

Have you noticed anything interesting while watching your audiences here in Kiev?
NM: Traveling is important. The possibility to travel, to interact with different human beings, keeps me satisfied with my main focus: the individual. My interest is in the individual and how the individual makes him/herself part of something. I want to be able to propose something to an individual understanding that that individual is part of something bigger.

The judges have praised works in the exhibition for challenging the status quo. When you installed, were you interested in what's been going on in Kiev?
NM: That's not my problem. I'm not a slave to circumstance. I recognize that context is important, but the crucial thing is for me to express my perspective and hope that it's useful for someone. I hope it's useful for the Pinchuk Foundation, as I hope that it's useful for Kiev society, as I hope that it's useful for Bangladesh.
ADDRESS
Pinchuk Art Centre (opens in new tab)
1/3-2, А Block
Velyka Vasylkivska/Baseyna Street
Kiev
Ukraine
VIEW GOOGLE MAPS (opens in new tab)