Post Pop: Saatchi Gallery's latest show reflects on what happened after Warhol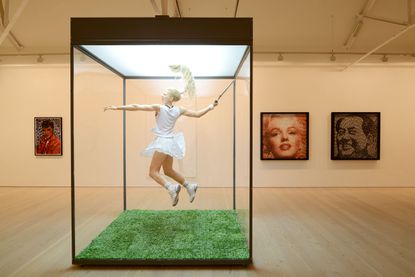 (Image credit: TBC)
An artist from China or Russia in the years following Glasnost (opens in new tab) and economic reform wouldn't have had much in common with his counterpart in the UK or US. Certainly the ideological links between those nations would have been tenuous at best. What they did share was a keen awareness of the imagery that besieged them - from bookshops, billboards and buildings of church and state - and the pop artists who exploited it.

In the East, people whose lives were strongly dictated were suddenly expected to think for themselves. Meanwhile in the West, people long expected to think for themselves were being told what to do and think. The disillusionment felt by artists coming of age at that time spawned a legacy of highly charged late-pop art.

That work is the subject of a far-reaching exhibition opened this week at London's Saatchi Gallery. Assembled by curators representing Russia, China and Taiwan, as well as the UK and US, 'Post Pop: East Meets West (opens in new tab)' features 250 works from three decades following the heyday of pop art.

It opens with a false sense of serenity in the monochrome 'Habitat' section, dominated by Ai Weiwei's 'Sofa in White', a replica of the standard-issue Chinese tufted armchair cast in marble, denying the comfort it's meant to offer. Bill Woodrow's 'Hoover Breakdown' references the mood of the modern housewife with a scattering of vacuum parts headed for the fan of a larger model. Richard Woods' recent 'Nature Making' portrays the act of destroying trees in the name of 'natural' furniture. Mounted on a whitewashed brick wall is Rachel Whiteread's 'Untitled (Black Books)', painted over in matt black so that nothing can be learned from it - least of all about the owner.

Soon enough, however, the bleeps of a Mao Zedong-themed video game crescendo and the branding appears: Jeff Koons' Spalding basketballs; Tom Sachs' 'Nutsy's McDonald's', assembled with visible nuts and bolts, including instructions on how to cook a 'prefab' meal. Alexander Kosolapov, luminary of Russia's sots art, or Soviet pop art, movement, presents a trinity of faceless Madonnas upstaged by a grid of caviar labels.

You'd think a generation of artists raised in the relative absence of religion would have escaped the pull of iconography. But therein lies the conflict in 'Ideology & Religion', perhaps the show's strongest section. If you're not scared straight by 'Die Harder', a screaming steel crucifix spiked with coat hangers by Turner Prize-nominee David Mach, you will be by the 12 shrouded figures worshipping at the altar of carved-wood toast slices by Anatoly Osmolovsky.

Further up the building the art goes increasingly meta, reproducing genres as disparate as classical Greek sculpture, English romantic, even pop art. After the umpteenth Warhol nod, the homage begins to wear thin - as does the line between the gallery proper and the second-floor gift shop. Perhaps this is the desired effect. At this time of year, does it matter?
ADDRESS
Saatchi Gallery (opens in new tab)
Duke of York's HQ
King's Road
London SW3 4RY
VIEW GOOGLE MAPS (opens in new tab)