Beyond belief: nothing is as it seems in the MSU Broad's latest exhibition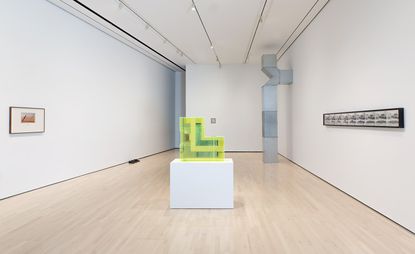 (Image credit: Press)
Installation view of 'The Transported Man' at the Eli and Edythe Broad Art Museum in Michigan. Courtesy of The Eli and Edythe Broad Art Museum at MSU
'I needed a new challenge – you have to take risks,' says Marc-Olivier Wahler of his decision to become director of the five-year-old Eli and Edythe Broad Art Museum at Michigan State University, following stints at Palais de Tokyo in Paris and the Swiss Institute in New York. The Swiss-born curator, scholar, and critic makes his debut at the MSU Broad with 'The Transported Man', a dazzling opening act of a show that fills the museum's Zaha Hadid-designed home in East Lansing with the work of 40 artists. True to his word, Wahler observed the opening from a precarious perch: inside the belly of a giant alligator named Freddy.

The enormous reptile shuffles deliberately along the museum's gleaming blonde-wood floors in Christian Jankowski's What Could Possibly Go Wrong? (2017), an opening-day performance that lives on in the exhibition as a short video. When a breathless reporter aims his microphone at the creature's belly to procure an 'exclusive' interview with the imperiled director, Wahler calmly explains the theme of the show. 'When you see an illusion, a trick, you have to believe it's something magic,' he says, in a voice muffled slightly by his predicament. 'But at the same time, you know it's not. Both are equally important.'

The notion of belief — and just how far it can be stretched — animates and unites the 52 works of the exhibition, on view through 22 October. The title is borrowed from a trick depicted in the 1995 novel The Prestige, Christopher Priest's tale of dueling magicians in fin-de-siècle London (the exhibition includes a newly discovered George Méliès film from 1904 that chronicles a similar battle of prestidigitators, both played by Méliès himself).
The exhibition examines the power of interpretation and the systems of belief at stake when facing objects. Courtesy of The Eli and Edythe Broad Art Museum at MSU
Alluring illusions float throughout the show, gaining further dimension from an abundance of mirrors, including a looking glass autographed by Marcel Duchamp and Ugo Rondinone's rainbow wilderness of mirrored windows arrayed on a wall plastered with pages from recent editions of the Detroit Free Press. The disembodied cast hands of Urs Fischer and Jonathan Monk allude to sleight-of-hand finesse; a trio of large weeds that have taken root beneath Hadid's pleated steel walls reveal themselves to be the painted bronzes of Tony Matelli; and Roman Signer's wooden Table (2009) hovers several inches above the floor.

'The idea of levitation carries through this exhibition in different ways,' says Steven Bridges, assistant curator at MSU Broad. 'The overall tension of the show is that these encounters between what you see in front of you and what you know is physically possible don't boil down to singular points. If anything, they expand into greater moments and explorations.'

Which brings us to the (900lb) elephant in the room. Daniel Firman's Loxodonta (2017) is an extraordinarily realistic simulation of a life-sized elephant hanging — with all of the acrobatic elegance a pachyderm can muster — from the soaring double-height ceiling of the largest ground-floor gallery. Firman has managed to evoke a determined energy in the animal's splayed limbs; this is a performer, not a corpse. The work, which was completed on site, is also indicative of Wahler's grand ambitions for the Broad Museum MSU. 'We're interested in broadening the conversation around art rather than narrowing it down,' adds Bridges. 'There really is the sense that anything is possible.'
Ugo Rodinone's mirrored glass windows, Clockwork for Oracles, 2008, provide a colourful backdrop.
INFORMATION
'The Transported Man' is on view until 22 October. For more information, visit the the Eli and Edythe Broad Art Museum website (opens in new tab)
ADDRESS
MSU Broad College
632 Bogue Street
East Lansing
VIEW GOOGLE MAPS (opens in new tab)