'The Flag Project' at Rockefeller Center shares messages of hope, unity and love
For two weeks in August, the flagpoles at The Rink at Manhattan's Rockefeller Center have been given over to local artists, both aspiring and renowned, to celebrate New York City and the qualities that have carried its people through difficult times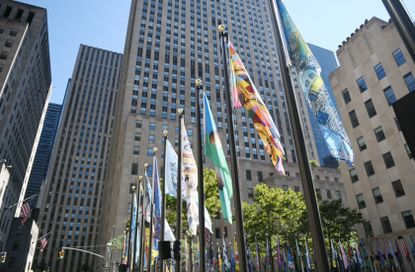 (Image credit: TBC)
For most of the year, the 193 flagpoles delineating The Rink at Manhattan's Rockefeller Center carry the national flags of the United Nations' member states. These give way to celebratory displays on special occasions – American flags on Independence Day, rainbow flags during Pride, and now for the first two weeks of August, an art project that showcases New Yorkers' love for their city.

The new display, simply titled 'The Flag Project', brings together contributions from 193 New Yorkers, ranging from teenagers to the centenarian painter and sculptor Carmen Herrera, each creating a 8' x 5' flag. Interspersed among the crowdsourced designs (selected from a pool of more than 1,200) are works by renowned local creatives, among them Faith Ringgold, Hank Willis Thomas, Jeff Koons, Jenny Holzer, Kaws, Laurie Anderson, Marina Abramović, Shantell Martin and Sarah Sze.
'We invited artists of all abilities to help us dream up new ways to celebrate the diverse culture, vibrant energy, and strength of New York City,' say developers Tishman Speyer, who organised the project.

The two events that have defined the year so far – the Covid-19 pandemic and the struggle for racial justice – are front of mind for many contributors. The muralist Steve Powers, for instance, drew the letters 'NYC' aboard a sailboat that had an outsized facial mask hoisted on its mast, against the resplendent backdrop of a rising sun on the horizon.
Likewise, Marina Abramović deployed a medical metaphor on her flag, which shows the echocardiography (EKG) line of a human heartbeat. Her red line, suggesting the resilience of the human spirit, beats across the white flag of surrender. 'We must be strong in the face of the unknown and at the same time we must surrender to changes demanded of society, our politics, and our planet. The most important thing of all is that we keep going and never give up,' she explains.

For Faith Ringgold, celebrating New York meant recognising and heralding its diverse demographics. Against a striped red, white and blue background, the artist drew a multiethnic crowd, circumscribed by the words 'Native Americans, Africans, Asians, Caribbeans, South Americans, Europeans' and titled 'We are the world'.
Jeff Koons drew on a similar idea for his flag, showing the letters NYC spelt out in golden mylar balloons against a multi-coloured diamond pattern in the background, representing 'the diversity of New York City and all the opportunities that one can be engaged in'. 'My flag strives to capture the optimism and diversity that New York City offers all people,' he says.

One of the simpler, but most effective pieces came from Shantell Martin, who handwrote the words 'I Above You', and then crossed out the 'Ab', replacing it with an 'L' to spell 'Love'. 'At the core of it all, we are all connected and worthy of being seen, listened to, understood, and loved,' she summarises.

It's a sentiment that Hank Willis Thomas echoes in his flag, a striking white-on-red design with the words 'The New Love Times' set in the distinctive Gothic typeface of the New York Times' logo. The graphic above simultaneously suggests a radiant sun and an eye with a spark. He intends this as a message of unity: 'These are the new Love Times. Individually we are asleep. Together we are awake. Wide awake.'
INFORMATION
The Flag Project, until 23 August, The Rink at Rockefeller Center. rockefellercenter.com
TF has been editor of Wallpaper* since December 2020. He is responsible for our monthly print magazine, planning, commissioning, editing and writing long-lead content across all our content pillars. He also plays a leading role in multi-channel editorial franchises, such as our annual Design Awards, Guest Editor takeovers and Next Generation series. He aims to create world-class, visually-driven content while championing diversity, international representation and social impact. TF joined Wallpaper* as an intern in January 2013, and served as its commissioning editor from 2017-20, winning a 30 under 30 New Talent Award from the Professional Publishers' Association. Born and raised in Hong Kong, he holds an undergraduate degree in history from Princeton University.