Camden Art Centre explores our deeply-rooted relationship with plant life
An ambitious online presentation investigates the cross-cultural significance of plants and humanity's place in the natural order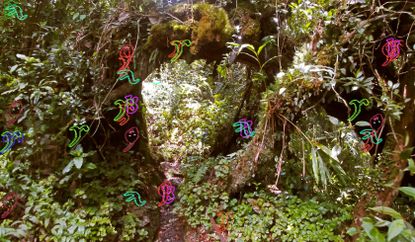 (Image credit: TBC)
In a time of enforced stillness and isolation, our relationship with the natural world has taken on new significance. Camden Art Centre has launched a digital exhibition exploring the intelligence of the vegetal kingdom and its profound influence on humanity through time.

The exhibition, 'The Botanical Mind: Art, Mysticism and The Cosmic Tree' was due to open physically on Earth Day (22 April), but in response to current lockdown measures, has been postponed. In the meantime, the north London gallery has launched 'The Botanical Mind Online', a complimentary online programme placing contemporary art, historical artefacts and radical schools of thought on plant life in a cross-era dialogue.
Shedding a holistic light on the significance of plants to human culture, from the indigenous traditions of the Amazon rainforest to new philosophies, the online initiative seeks to explore our physical, psychological and increasingly complex relationship with the natural world.

Through new artist commissions, films, and podcasts featuring leading voices the fields of science, anthropology, music and art, the platform spotlights a breadth of theories on themes of plant intelligence and spirituality, from quantum biology to queer nature. Viewers can dive into surrealist, modernist and contemporary perspectives, as well as an expanding archive of historical manuscripts, textiles and ethnographic artefacts spanning 500 years.
Archival and new material from artists, thinkers, musicians and writers including contributions from Carl Jung, Linder and Carol Bove are staged in tandem with new digital art commissions from artists including DAS INSTITUT, Adam Chodzko and Joachim Koester.

This is a time of increasing tension between visible and non-visible forces: the micro threat of a virus and the looming impact of climate change. 'The Botanical Mind Online' provides a space for personal engagement, and an arena for global, trans-cultural visions on the deeply rooted relationship between human and non-human life
INFORMATION
The postponed physical edition of 'The Botanical Mind: Art, Mysticism and The Cosmic Tree' runs until 23 December 2020 at Camden Art Centre. camdenartcentre.org
ADDRESS
Camden Art Centre
Arkwright Rd
London NW3 6DG
VIEW GOOGLE MAPS (opens in new tab)