Pot luck: Takashi Murakami's vast ceramics collection goes on display in Japan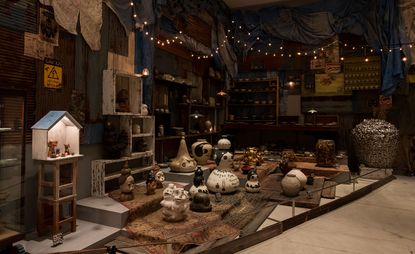 (Image credit: Ikki Ogata)
Ceramics first emerged in Japan in the Jomon period - the prehistoric era - making it one of the first art forms in the country, and one of the oldest ceramic traditions in the world. Chanoyu tea ceremonies designed by Rikyuu - the ancient master of the Japanese green tea ritual - popularised ceramics, and in the 1920s, the Mingei folk art movement continued to place ceramics at the forefront of Japanese culture.

It's no surprise that contemporary Japanese artists have continued to mine this medium for meaning. Takashi Murakami, the founder of the Superflat movement, is one of Japan's most prominent collectors of ceramics today. Since opening his small ceramics store, Oz Zingaro, on the 4th floor of Tokyo's Manga paradise Nakano Broadway in 2011, Murakami has ensured that the development of ceramics in Japan continues to flourish.
His latest public initiative comes in the form of his first museum exhibition on contemporary ceramics: a selection of 300 pieces, curated from his own collection, on view at the Towada Art Centre (the multifunctional arts space designed by Ryue Nishizawa) until May. The exhibition surveys work mostly by Japanese artists, such as Superflat artist Yoshimoto Nara, whose Girl with Tongue Out (2010) forms a neat parallel with Otani Workshop's more recent Sleeping Child (2016) but there are some major international names too - Rosemarie Trockel, Klara Kristalova and Gabriel Orozco among them.

Murakami also considers the flexibility of ceramics, between functional and art object: Yuji Murakami's Torn Jar with Ameyu, and Shin Murata's Torn Jar, are both contemporary takes on the rough aesthetic of primitive ceramics, and earthenware originally used by Buddhists in Japan. Similarly, the muted earthy palette of pieces by Yuji Ueda and Aso Kojima reflect on the tradition of the ceramic craft, recalling the simple style of early pottery. They look at the objects of the past as high art, uncovering their inherent beauty and value.
INFORMATION
Takashi Murakami's 'Superflat Consideration on Contemporary Ceramics' is on at the Towada Art Centre until 28 May. Fore more information, visit the Towada Art Centre website (opens in new tab)
ADDRESS
Towada Art Centre,
10-9 Nishi-Nibancho,
Towada-shi, Aomori,
Japan
Charlotte Jansen is a journalist and the author of two books on photography, Girl on Girl (2017) and Photography Now (2021). She is commissioning editor at Elephant magazine and has written on contemporary art and culture for The Guardian, the Financial Times, ELLE, the British Journal of Photography, Frieze and Artsy. Jansen is also presenter of Dior Talks podcast series, The Female Gaze.