Superflex swings into action, transforming the Turbine Hall into an artistic playground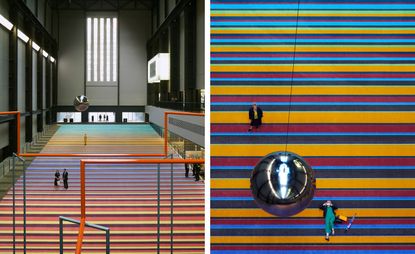 (Image credit: TBC)
Two heads are better than one – and six legs are better than two, or at least, that's what art collective Superflex think.

The Danish trio have filled the Turbine Hall in the Tate Modern – and beyond – with rows of three-seater swings, the latest Hyundai Commission unveiled at the London gallery this week. The interactive, giant playground, which also features a monumental pendulum, will have more than 3 million visitors swinging at the Tate Modern until April.

The ambitious interactive work engages not only with the industrial past of the Turbine Hall, but with the current socio-political crisis. 'Given the enormous challenges of our times it's difficult to see how we can make an impact as individuals,' says Superflex co-founder Bjørnstjerne Christiansen on the concept for the commission.
'When you swing alone, you feel gravity, you feel freedom — but when you swing in three, you have to balance, you have to collaborate to make it work, to get the motion, and then you experience a force that is much greater than with one person,' Christiansen adds. 'It's the core of the whole installation, three people as a collaborative, collective power.'

Superflex join some of the world's leading artists who have transformed the 85ft high space since 2000, including Louise Bourgeois, Anish Kapoor, Carsten Höller and Olafur Eliasson. The collective's work—titled One, Two, Three, Swing!—will extend out of the public space and into the urban landscape, and eventually, it's hoped, even out of London.
The artists hope to send a positive message about the power of working together, physically and psychically. 'We have spent 25 years working as three people, passing that on as an entity, it's what we believe in. Doing things with other people from the start, to challenge our own identity, who we are and what we can achieve, in different constellations, is key to being a citizen,' Christiansen told us.

The enormous, mirrored pendulum, gently swinging from the ceiling, also allows visitors some downtime for quiet, horizontal thought (you're invited to lie down on colourful carpets below), something the artists see an essential, and part of the process to change. 'In the UK you have a kind of identity crisis, with Brexit and the consequences of that, and surely that creates an apathy around what we can do. But we need apathy and contemplation to be able to activate, to be part of movement and of a movement,' Christiansen explains.

From there, a factory production line will assemble the swing seats on the spot. 'We want to motivate people to think about what's going on,' he says. 'We're optimistic about collective power — every system is a construction, historic facts based on human actions, so that means we can challenge them on every level.'
INFORMATION
'One Two Three Swing!' is on view until 2 April 2018. For more information, visit the Tate website
ADDRESS
Tate Modern
Bankside
London SE1 9TG
Charlotte Jansen is a journalist and the author of two books on photography, Girl on Girl (2017) and Photography Now (2021). She is commissioning editor at Elephant magazine and has written on contemporary art and culture for The Guardian, the Financial Times, ELLE, the British Journal of Photography, Frieze and Artsy. Jansen is also presenter of Dior Talks podcast series, The Female Gaze.