Street to studio: a new book charts the evolution of street art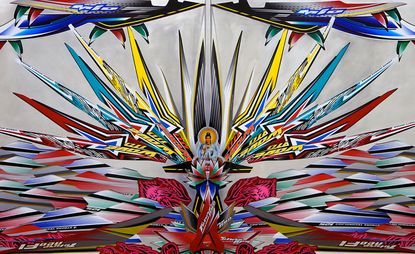 (Image credit: Lund Humphries)
Rafael Schacter's colourful new tome take us inside the studios of 40 artists from across the globe who began their work on the streets. Street to Studio celebrates the 50th anniversary of 'modern graffiti', which the London-based anthropologist and curator determines has its roots in New York in the late 1960s.

Those 50 years, he writes, have seen street art develop from a 'subcultural preserve of adolescents and outsiders' to an 'ubiquitous "image regime" and arguably the world's most practised art form'. In the past decade, street art has gradually been accepted by society, yet in fact it remains in a 'radically reduced, disorientated position' and inhibited by reductive misrepresentations – the 'art versus vandalism' debate. 'It is simultaneously admired and abhorred, revered and renounced, desired and disdained,' says Schacter.

To wit, the next chapter of modern graffiti requires new parameters of sophistication. Schacter takes the lead on theorising it as a movement. The artists he has selected are 'taking the essence of graffiti – its visual principles, its spatial structures, its technical methods, its entrenched ethics – and reinterpreting them within the studio domain'. He defines this studio based form of street art as 'intermural art' – with a literal translation of 'art in-between the walls' which occupies a 'liminal position, between inside and out'. It's a movement that occupies a juncture between graffiti and contemporary art.
Once a genre associated with rebellion and protest, street art has been sucked up into cities to become Instagram fodder. Cameras have overtaken our cities and 'murals are like a dish of food', writes culture critic Carlo McCormick in the introduction of the book. 'Yet the studio is a different place, time is endless and so are materials, colours,' he continues. The process of the book takes the performative act of making street art, and reroutes it back to the studio – acknowledging 'studio practice as part of the process'.

The decades of the 1970s and 80s in NYC, are recognised as the 'golden age of NYC graffiti' – fueled by the new canvases of mass transit systems. 'First wave pioneers' include Basquiat, Scharf or Rammellzee, then those influenced by graffiti in their work such as Sol LeWitt, Gordon Matta Clark, Elizabeth Murray, Christopher Wool, Katharina Grosse, Jenny Holzer, and Barbara Kruger.

The book noticeably forgoes a single mention of the much-maligned artist Banksy, yet other figures such as the political and personable Haring and art world darling KAWS are profiled across the pages. There's plenty of intriguing artist oeuvres to delve into, among them Brooklyn-based musician and painter Eddie Martinez's abstract expressonist style peeling canvases; Alicia McCarthy's mixed-media musings; Evan Roth's open source activist images; and Swoon's socially-inspired drawings.

Schacter addresses some limitations: there are only four female artists among the 40, which apparently mirrors the 'inherent gender bias within graffiti', an unbacked claim. He also recognises the majority of artists as being European and American because, according to Schacter, graffiti first emerged in these areas. Yet these arguments sound like those of outdated art history textbooks from the last century that are currently being addressed and rebalanced 100 years later.
Yet, like most virgin manifestos, the first one is limited by its need for definition of parameters and boldness to strike out alone – to hurl a new term into the saturated lexicon. And that's how a discourse unfolds, opening up the critical dialogue around modern graffiti and intermural art that Schacter so craves.

While lamenting back and forth upon a public misrepresentation of graffiti in culture, we don't hear much about its development over those 50 years other than the New York scene – or the shift in terminology from graffiti to street art. Yet, flick to the quietly numbered footnotes stored at the back of the book for these factual details, that show Schacter has much more knowledge to give than an introduction allows.

It's through the profiles of each artist that we gain a wider understanding of what modern graffiti really is. The site-specific movements and groups within which the artists each established their practices unfold into a global mapping of intermural art. A wider sense of what Schacter describes with gusto in his opening manifesto is developed and the reader will understand how multi-faceted and layered this practice is.
INFORMATION
Street to Studio, £35, published by Lund Humphries
Receive our daily digest of inspiration, escapism and design stories from around the world direct to your inbox
Harriet Thorpe is a writer, journalist and editor covering architecture, design and culture, with particular interest in sustainability, 20th-century architecture and community. After studying History of Art at the School of Oriental and African Studies (SOAS) and Journalism at City University in London, she developed her interest in architecture working at Wallpaper* magazine and today contributes to Wallpaper*, The World of Interiors and Icon magazine, amongst other titles. She is author of The Sustainable City (2022, Hoxton Mini Press), a book about sustainable architecture in London, and the Modern Cambridge Map (2023, Blue Crow Media), a map of 20th-century architecture in Cambridge, the city where she grew up.